Hereditaire

hemochromatose (HH)
Uitgangsvraag
Wat is de indicatie voor genetisch onderzoek? Wanneer, welke genen, door wie, welke mutaties, welke volgorde? Hoe moet genetisch onderzoek worden geïnterpreteerd?
Aanbeveling
Geen gradering

Onderzoek van HFE-mutaties dient te worden verricht bij alle patiënten (van kaukasische afkomst) met verhoging van transferrinesaturatie > 45% en serumferritine boven de normaalwaarde van het laboratorium voor leeftijd en geslacht, waarbij andere oorzaken van verhoogde ijzerparameters zijn uitgesloten.

Bij alternatieven (i) geen mutaties, (ii) heterozygoot voor C282Y, (iii) compound heterozygotie (iv) heterozygoot voor H63D en (v) homozygoot voor H63D: zie flowchart.

(*: onderzoek van het gen op zeldzame mutaties, anders dan C282Y en H63D)

Zie flowchart: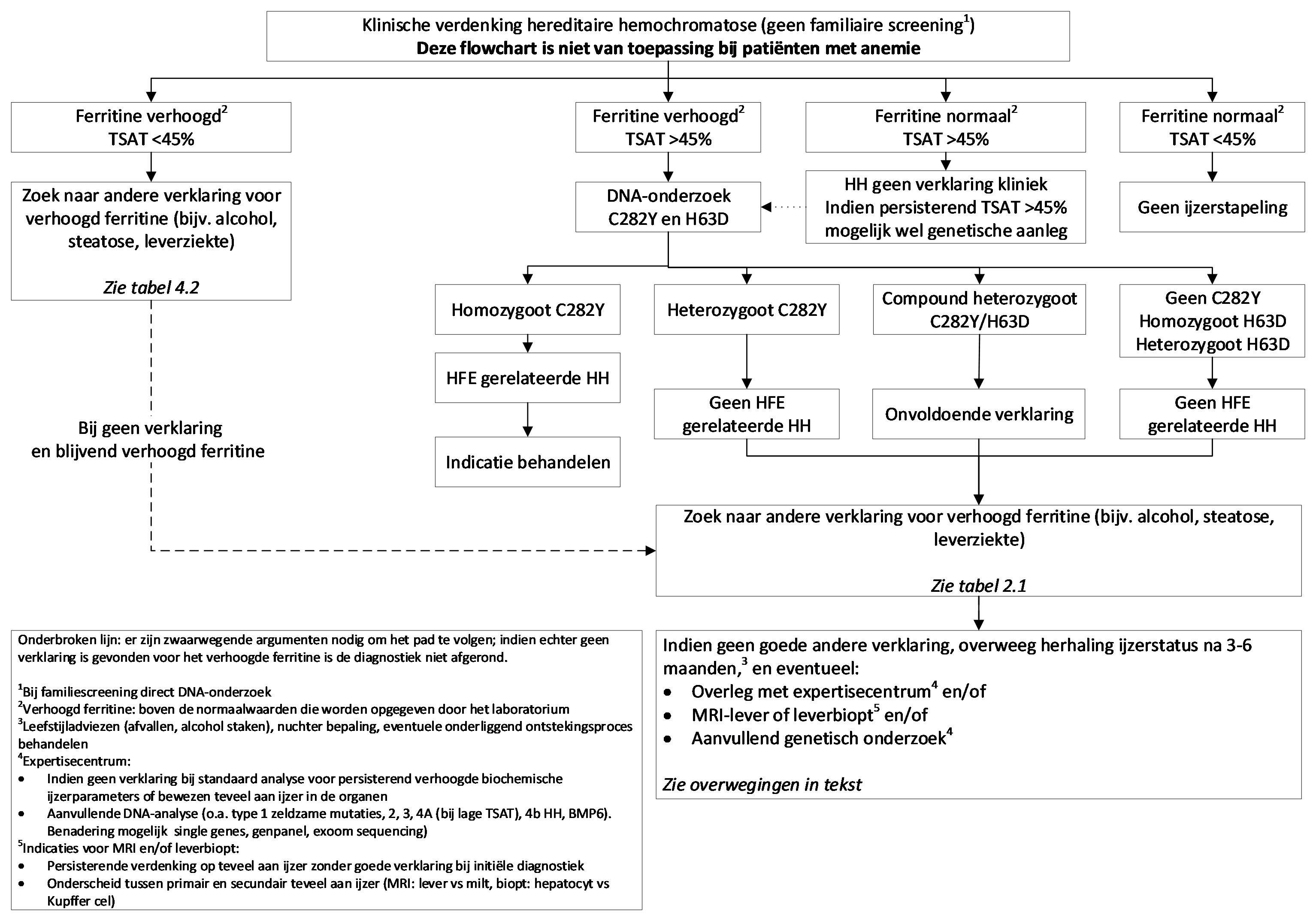 Overwegingen
Inleiding
Deze module is afkomstig uit de richtlijn 2007, en beperkt herzien zonder systematisch literatuuronderzoek.
De ziekte 'idiopathische' hemochromatose veranderde in 'hereditaire' hemochromatose (HH) met de waarneming, rond 1975, dat de aandoening opvallend frequent voorkwam bij broers en zussen van patiënten en bij kinderen uit consanguïne huwelijken. Tevens bleek uit segregatieanalyse van stambomen dat de ziekte autosomaal recessief overerft. Genetisch onderzoek bij patiënten met biochemische of klinische verdenking op HH werd pas mogelijk met de ontdekking, door Michel Simon en medewerkers, dat hemochromatose geassocieerd was met HLA serotype A3. In een Deense studie bij HH patiënten was het relatieve risico (in vergelijking met een normale populatie) op HLA-A3 10,9 en op HLA-B7 4,1. Bij patiënten met een klinisch kennelijk homozygote vorm van HH werden daarna vele verschillende HLA haplotypen waargenomen die overigens identiek waren bij 'sibs' (broers en zussen) die eveneens klinische of biochemische expressie van teveel aan ijzer hadden. HLA typering had derhalve geen betekenis voor de diagnostiek van HH bij patiënten maar wel bij familieonderzoek. Daarbij bleek overigens dat er grote verschillen bestonden in de fenotypische expressie van HH, zelfs bij personen met dezelfde HLA haplotypen.(109, 110)
Genetisch onderzoek als een zinvolle aanvulling van de diagnostiek bij ijzerstapeling werd pas mogelijk na isolatie van een met hemochromatose geassocieerd gen (HFE) in 1996.(3) Bij patiënten met de kenmerken van HH bleek een mutatie van het HFE-gen te bestaan die resulteerde in een 845G→A verandering (van cysteïne naar tyrosine bij residu 282 van het HFE-eiwit): de C282Y mutatie. Dit genotype werd bij 52-100% van de patiënten met het fenotype van HH gevonden.(4, 111, 112) Van de niet-C282Y homozygote patiënten was een aantal compound heterozygoot voor C282Y en een tweede HFE mutatie, n.l. met een 187C→G verandering, resulterend in een H63D mutatie.(113) Overigens wordt compound heterozygotie tegenwoordig eerder als risicofactor beschouwd dan als genetische aanleg.(114) De prevalentie van de H63D-mutatie is hoog in populaties van Noord-Europese afkomst (ongeveer 20%), terwijl de C282Y prevalentie in deze populaties ongeveer 10% is. Bij C282Y heterozygoten en H63D homozygoten wordt doorgaans geen teveel aan ijzer gevonden. Naast genoemde HFE-mutaties worden sporadisch nog andere pathologische mutaties gevonden in het HFE-gen.
De afgelopen jaren is gebleken dat mutaties in een aantal andere genen verantwoordelijk zijn voor de non-HFE vormen van HH. Het betreft eiwitten die een rol spelen als ijzertransporter of ijzersensor zoals transferrinereceptor-2 (TfR2), hemojuveline (HJV), hepcidine (HAMP), ferroportine (FPN) en recentelijk BMP6.(24, 115) De genetische afwijkingen die leiden tot HH zijn hierdoor behoorlijk gecompliceerd geworden.
Conclusies
| | |
| --- | --- |
| Geen gradering | Homozygotie voor de C282Y mutatie van het HFE-gen is bewijzend voor de aanleg voor de ziekte HH, maar geeft geen indicatie of er ook teveel aan ijzer zal optreden en kan de ernst van teveel aan ijzer en weefselschade niet voorspellen. |
Samenvatting literatuur
Voor de plaatsbepaling van genetisch onderzoek zijn vier overwegingen van belang: (i) bij alle vormen van HH bestaat de behandeling uit aderlatingen, (ii) momenteel is alleen diagnostiek van HFE mutaties algemeen beschikbaar, (iii) voor het bij HH obligate familieonderzoek moeten de mutaties van de proband bekend zijn en (iv) indien bij mensen met slechts geringe biochemische tekenen van teveel aan ijzer homozygotie voor de C282Y mutatie gevonden wordt, zal dat richting geven aan de planning van toekomstige controles.
Hoewel strikt genomen klinische en biochemische parameters bepalend zijn voor al dan niet instellen van behandeling met aderlatingen, zal onderzoek naar mutaties van het HFE-gen, op grond van bovenstaande overwegingen, moeten plaatsvinden bij alle patiënten met de combinatie van een verhoogde transferrinesaturatie, boven 45%, en een verhoogd ferritine (zie de module ´IJzerparameters bij Hemochromatose´). Indien onderzoek plaatsvindt op jeugdige leeftijd of bij vrouwen die nog menstrueren, dan kan het ferritine nog laag zijn maar met kans op een aanzienlijke stijging in een volgende levensfase.
Een derde mutatie S65C, met een lage allelfrequentie van 1,6-2,0% heeft een klein maar consistent effect op de ijzerparameters in combinatie met de C282Y.(15, 116, 117) Tot nu toe zijn er echter geen overtuigende bewijzen dat S65C is geassocieerd met HH. Dit tezamen met de lage allelfrequentie maakt dat er onvoldoende argumenten zijn om ook voor S65C te testen om de aanwezigheid van HH te bevestigen.(114)
Alleen de interpretatie van onderzoek naar de veel voorkomende mutaties van het HFE-gen wordt hier besproken.
De mogelijkheden zijn: (i) geen mutaties, (ii) heterozygoot voor C282Y, (iii) homozygoot voor C282Y, (iv) heterozygoot voor H63D, (v) homozygoot voor H63D, (vi) compound heterozygoot voor C282Y/H63D.
Alleen de bevinding (iii) past bij HH type 1. Andere afwegingen bij het inzetten van vervolgdiagnostiek zoals aanvullend DNA onderzoek, leverbiopsie, lever MRI worden besproken in de modules ´IJzer in de lever: leverbiopsie bij Hemochromatose´, ´IJzer in de lever: MRI bij Hemochromatose´ en ´Diagnostisch vervolgonderzoek Hemochromatose´.
Referenties
Autorisatiedatum en geldigheid
Laatst beoordeeld : 28-10-2018
Laatst geautoriseerd : 28-10-2018
De commissie richtlijnen van de Nederlandse Internisten Vereniging beziet jaarlijks of herziening van (delen van) deze richtlijn noodzakelijk is. Indien dat het geval is, dan spant de Nederlandse Internisten Vereniging zich ervoor in om de voorwaarden hiervoor te realiseren.
Initiatief en autorisatie
Algemene gegevens
Met ondersteuning van
PROVA
Financiering
De richtlijnontwikkeling werd gefinancierd uit de Stichting Kwaliteitsgelden Medisch Specialisten.
Doel en doelgroep
Doel
Het doel van deze richtlijn is de kwaliteit van zorg en patiëntveiligheid van patiënten met (verdenking op of verhoogde kans op) hereditaire hemochromatose te waarborgen en waar mogelijk te verbeteren. In deze richtlijn worden aanbevelingen geformuleerd die professionals in de zorg hiertoe de handvaten geven.
Doelgroep
De doelgroep van deze richtlijn zijn professionals die zich bezighouden met medisch specialistische zorg voor patiënten met (verdenking op of verhoogde kans op) hereditaire hemochromatose. Hieronder worden in ieder geval verstaan: internisten, maag-darm-leverartsen, hematologen, radiologen, klinisch chemici en klinisch genetici. Maar, ook anderen kunnen deze richtlijn gebruiken.
Samenstelling werkgroep
Voor de ontwikkeling van deze richtlijn is een werkgroep geformeerd onder voorzitterschap van dr. Alexander Rennings, internist, vasculair geneeskundige, klinisch farmacoloog. In de werkgroep hadden gemandateerde vertegenwoordigers van de belangrijkste beroepsverenigingen die te maken hebben met de specialistische zorg rondom patiënten met (verdenking op of verhoogde kans op) hereditaire hemochromatose zitting. Om het patiëntenperspectief te waarborgen, hadden twee vertegenwoordigers van de Hemochromatose Vereniging Nederland eveneens zitting in de werkgroep. De werkgroep is procedureel en methodologisch ondersteund door PROVA en logistiek door het bureau van de Nederlandse Internisten Vereniging. De ontwikkeling van deze richtlijn is gefinancierd vanuit een projectbudget door de Stichting Kwaliteitsgelden Medisch Specialisten.
Dhr. dr. Alexander Rennings, internist, vasculair geneeskundige, klinisch farmacoloog, Radboudumc, Maartenskliniek, Nijmegen, voorzitter
Mw. drs. Mariska Tuut, epidemioloog, PROVA, Varsseveld, secretaris
Dhr. dr. Cees van Deursen, internist, Zuyderland Medisch Centrum, Heerlen, Maastricht UMC+, Maastricht
Mw. dr. Esther Jacobs, internist-hematoloog, Elkerliek Ziekenhuis, Helmond
Mw. prof. dr. Dorine Swinkels, arts klinische chemie, Radboudumc, Nijmegen
Mw. drs. Khalida Soufidi, MDL-arts, Zuyderland Medisch Centrum, Heerlen
Dhr. dr. Menno van der Waart, biochemicus, hemochromatose patiënt, bestuurslid van de Hemochromatose Vereniging Nederland, Oss
Dhr. drs. Henk Jacobs, arts, hemochromatose patiënt, voorzitter van de Hemochromatose Vereniging Nederland, Hapert
Dhr. dr. Jacques Giltay, klinisch geneticus, UMC Utrecht
Dhr. drs. Sebastiaan van Koeverden, radioloog, Radboudumc, Nijmegen
Belangenverklaringen
Alle leden van de werkgroep hebben een belangenverklaring ingevuld. Hieruit bleken geen beperkingen voor deelname aan de werkgroep.
Naam

Hoofdfunctie

Nevenfunctie

Persoonlijke financiële belangen

Persoonlijke relaties

Reputatie-management

Extern gefinancierd onderzoek

Kennis-valorisatie

Overige belangen

Alexander Rennings

Internist Radboudumc en St. Maartenskliniek

Lid werkgroep geneesmiddelen van de Orde

-

-

Voor mijn aanstelling binnen het Radboudumc waarbij ik de voortrekkersrol heb voor de patiëntenzorg hemochromatose is het belangrijk dat ik mij daarin landelijk profileer

Medisch adviseur HVN, vergoeding: onkosten

-

-

Werk in het Radboudumc nauw samen met Dorine Swinkels binnen het expertisecentrum ijzerstofwisselingsziekten

Mariska Tuut

Eigenaar PROVA

-

-

-

-

-

-

-

Cees van Deursen

Internist Zuyderland MC

-

-

-

Medisch adviseur HVN, sinds 2000, vergoeding: onkosten

-

-

-

Esther Jacobs

Internist-hematoloog

Lid commissie richtlijnen NvVH

-

-

Medisch adviseur HVN, vergoeding: onkosten

-

-

-

Dorine Swinkels

Hoogleraar experimentele klinische chemie

-

-

-

Lid Medische Adviesraad HVN, sinds 1999, vergoeding: pro deo

Primus inter pares van het Radboudumc expertisecentrum zeldzame aandoeningen van de ijzerstofwisseling

-

Ik ben een werknemer van het Radboudumc dat analyses van het ijzerhormoon hepcidine en ijzergenen aanbiedt voor wetenschappelijk onderzoek, patiëntenzorg en farmaceutische industrie

-

Khalida Soufidi

Maag Darm en Leverarts

-

-

-

-

-

-

-

Jacques Giltay

Klinisch geneticus

-

-

-

-

-

-

-

Menno van der Waart

Bestuurslid HVN

Lid Bondsraad Consumentenbond

-

-

Lid bestuur HVN, speerpunt P&R, sinds 2015, vergoeding: onkosten

-

-

-

Henk Jacobs

Voorzitter HVN

-

-

-

Lit bestuur HVN, vergoeding: onkosten

-

-

-

Sebastiaan van Koeverden

Radioloog Radboudumc

-

-

-

-

-

-
Methode ontwikkeling
Implementatie
Gedurende het hele proces van richtlijnontwikkeling is rekening gehouden met implementatie van de richtlijn in de praktijk, bijvoorbeeld bij de samenstelling van de werkgroep, de brede knelpunteninventarisatie en de uitgebreide commentaarronde.
Na autorisatie van de richtlijn wordt deze ten minste op de website van de Nederlandse Internisten Vereniging gepubliceerd. Ook andere deelnemende partijen zijn vrij de richtlijn op hun website te publiceren. De richtlijn wordt ter publicatie aangeboden aan www.richtlijnendatabase.nl. Daarnaast wordt getracht samenvattingen van de richtlijn in Nederlandse tijdschriften te publiceren, aandacht aan de richtlijn te besteden op congressen, en nascholingsmateriaal en voorlichtingsmateriaal te ontwikkelen, om zo de implementatie van de richtlijn te bevorderen.
In aansluiting op de informatie in deze richtlijn is een consultkaart ontwikkeld, een keuzehulp die patiënten kan helpen bij de keuze tussen verschillende vormen van behandeling.
Werkwijze
Knelpunteninventarisatie
In een invitational conference, gehouden op 17 februari 2016 zijn knelpunten in de zorg voor patiënten met (verdenking op of verhoogde kans op) hereditaire hemochromatose geïnventariseerd. Voor deze invitational conference waren de volgende partijen uitgenodigd:
Werkgroepleden
Nederlandse Vereniging voor Radiologie
Nederlandse Vereniging voor Reumatologie
Nederlands Huisartsen Genootschap
Nederlandse Vereniging voor Pathologie
Sanquin
Zorgverzekeraars Nederland
Nederlandse Vereniging van Ziekenhuizen
Nederlandse Federatie van Universitair Medische Centra
Nefarma
ZorgInstituut Nederland
Patiëntenfederatie Nederland
Inspectie voor de Gezondheidszorg
Nederlandse ZorgAutoriteit
Verpleegkundigen & Verzorgenden Nederland
Nederlandse Vereniging van ZiekenhuisApothekers
Koninklijke Nederlandse Maatschappij ter bevordering der Pharmacie
De richtlijnwerkgroep heeft in de eerste werkgroepvergadering eveneens knelpunten geïdentificeerd. Deze zijn in de invitational conference ter commentaar voorgelegd aan de deelnemers.
In de tweede vergadering van de richtlijnwerkgroep zijn de in de richtlijn te behandelen knelpunten en uitgangsvragen vastgesteld.
Uitwerking knelpunten en uitgangsvragen in conceptrichtlijn
Om de uitgangsvragen te beantwoorden is op systematische wijze per uitgangsvraag de evidence beoordeeld (zie hiervoor de inhoudelijke modules). Hierbij is gebruik gemaakt van de GRADE methodiek. Voor achtergrondinformatie hierover wordt verwezen naar de Nederlandse handleiding voor het gebruik van GRADE.(2) De evidence is samengevat door de epidemioloog in de werkgroep, met inhoudelijke input en feedback van de inhoudelijk experts in de werkgroep. Per uitgangsvraag was hiervoor een aantal 'ambassadeurs' aangewezen. De praktische overwegingen en conceptaanbevelingen zijn voorbereid door deze 'ambassadeurs' per uitgangsvraag. De aanbevelingen, en de gehele conceptrichtlijn, zijn plenair door de werkgroep vastgesteld.
Integratie oude richtlijn
Relevante delen uit de richtlijn hereditaire hemochromatose uit 2007 zijn enigszins geactualiseerd in deze nieuwe richtlijn geïntegreerd.(1) Voor deze delen van de tekst is geen systematisch literatuuronderzoek gedaan. Deze teksten kennen een wat andere opbouw in vergelijking met de paragrafen over de nieuwe knelpunten. Per module is aangegeven of dit nieuwe of geactualiseerde tekst betreft.
Procedure voor commentaar en autorisatie
De conceptrichtlijn is ter commentaar aangeboden aan alle partijen die bij de knelpunteninventarisatie om input gevraagd zijn. Het binnengekomen commentaar is door de werkgroep beoordeeld en verwerkt in de richtlijn. Daarbij is beargumenteerd welke commentaren wel en welke niet zijn overgenomen.
Daarna is de richtlijn ter autorisatie voorgelegd aan de partijen die in de werkgroep vertegenwoordigd zijn. De richtlijn is geautoriseerd door de Nederlandse Internisten Vereniging, de Hemochromatose Vereniging Nederland, de Nederlandse Vereniging van Maag-Darm-Leverartsen, de Nederlandse Vereniging voor Klinische Chemie en Laboratoriumgeneeskunde, de Nederlandse Vereniging voor Radiologie en de Vereniging Klinische Genetica Nederland.
Juridische betekenis van richtlijnen
Richtlijnen zijn geen wettelijke voorschriften, maar op 'evidence' gebaseerde inzichten en aanbevelingen waaraan zorgverleners moeten voldoen om kwalitatief goede zorg te verlenen. Na autorisatie van de richtlijn door een beroepsvereniging, wordt de richtlijn gezien als deel van de 'professionele standaard'. Aangezien de aanbevelingen hoofdzakelijk gebaseerd zijn op de 'gemiddelde patiënt', kunnen zorgverleners op basis van hun professionele autonomie waar nodig afwijken van de richtlijn. Afwijken van richtlijnen kan in bepaalde situaties zelfs noodzakelijk zijn. Wanneer van de richtlijn wordt afgeweken, dient dit beargumenteerd en gedocumenteerd te worden.
Zoekverantwoording
Genetisch onderzoek bij Hemochromatose