Hereditaire

hemochromatose (HH)
Uitgangsvraag
Welk diagnostisch vervolgonderzoek (diagnostisch aderlaten, specifiek genetisch onderzoek, MRI als tussenstap) is geïndiceerd wanneer bij een klinische verdenking hereditaire hemochromatose DNA onderzoek (HFE, exon 2 of 4) geen verklaring heeft opgeleverd?
P Patiënten met klinische verdenking HH, na DNA-onderzoek
I Diagnostisch aderlaten, Aanvullend genetisch onderzoek, MRI
C -
O Diagnostische accuratesse

De setting voor deze uitgangsvraag is de tweedelijns gezondheidszorg in Nederland.
Aanbeveling
Zwak (zie flowchart)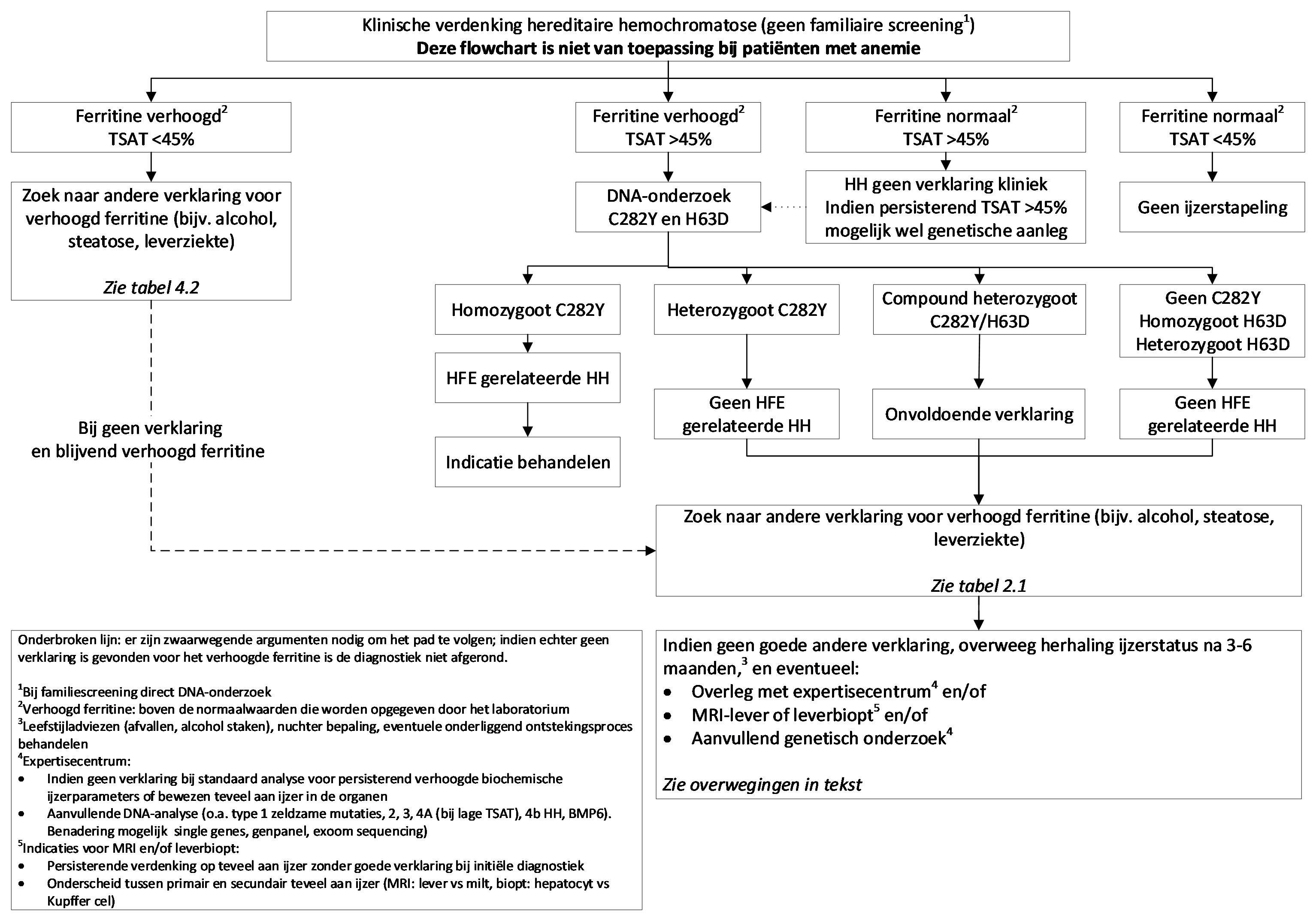 Overwegingen
De algehele kwaliteit van het bewijs is zeer laag. Voor het onderzoek naar de oorzaak bij een patiënt met hyperferritinemie is het volgende stroomdiagram als hulpmiddel voor de behandelende arts opgesteld.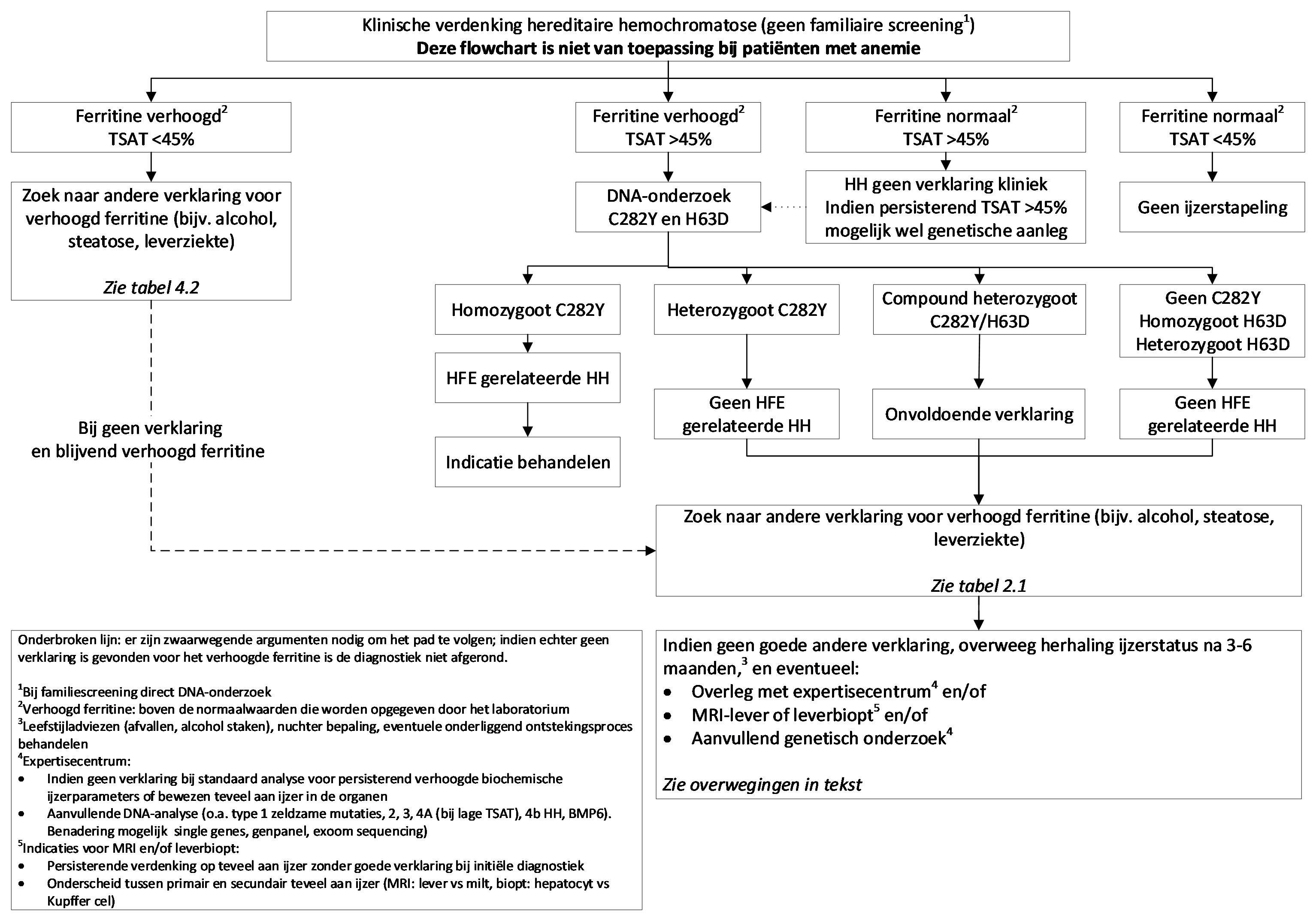 Hyperferritinemie is niet alleen een uiting van een toegenomen ijzervoorraad, maar kan ook door andere aandoeningen worden veroorzaakt. Een overzicht van de DD staat in tabel 1. Bij analyse van hyperferritinemie zullen dus meerdere aandoeningen overwogen moeten worden. De transferrinesaturatie speelt hierbij een belangrijke rol. Als deze <45 % bedraagt, is de kans op teveel aan ijzer door een onderliggende genetische aanleg voor hereditaire hemochromatose nagenoeg uitgesloten. Als er sprake is van een verhoogd ferritine en transferrineverzadiging zonder homozygotie voor de C282Y mutatie, kan worden overwogen om het ferritine en de transferrineverzadiging te volgen in combinatie met leefstijladviezen. Bij een ferritine > 1000 µg/l en geen verklaring op basis van de leefstijl, lijkt het aangewezen om sneller vervolgonderzoek in te zetten. Op proef aderlaten zonder diagnose wordt niet als standaard beleid geadviseerd aangezien er geen bewijs dan wel streefwaardes zijn voor deze setting, terwijl aderlaten wel een medisch invasieve behandeling is.
Bij blijvend verhoogde waarden kan een MRI-onderzoek worden verricht om de leverijzerconcentratie te bepalen. Anders dan bij secundaire hemochromatose waar de MRI wordt gebruikt om te bepalen of er een behandelindicatie is voor de ijzerstapeling, wordt de MRI hier gebruikt om te bepalen of nader onderzoek naar hereditaire hemochromatose gewenst is. Het is niet mogelijk om op basis van evidence concrete afkapwaarden te benoemen. Om de clinicus toch een handvat te geven, zijn navolgend enige suggesties genoemd. Bij waarden < 100 µmol Fe/g droog levergewicht is de kans op een schadelijke overmaat aan ijzer zeer klein.(12, 136) Bij mensen met het metabool syndroom of radiologische afwijkingen voor steatosis hepatis worden deze ijzerwaarden vaak gezien op de MRI. Als de uitslag > 100 µmol Fe/g droog levergewicht bedraagt kan er zeer wel sprake zijn van een schadelijke overmaat aan ijzer en lijkt uitgebreid genetisch onderzoek een logische vervolgstap om te komen tot een diagnose en de daarvoor optimale behandeling. Dit geldt vooral als de nieuwe MRI relaxometrie wordt gebruikt en er daarbij geen aanwijzingen zijn voor steatosis hepatis of ijzerstapeling in de milt.
Er zijn verschillende stroomdiagrammen gepubliceerd waarbij het leverbiopt en de MRI telkens een andere positie krijgen in de diagnostiek. Het leverbiopt is een invasief onderzoek met zeldzame, maar potentieel ernstige complicaties. Het leverbiopt heeft echter als voordeel dat op een directe wijze onderzoek gedaan kan worden naar de verdeling van ijzer in de lever (parenchym- of Kupffercellen), er gekeken kan worden naar andere leverziekten (steatose, auto-immuunhepatitis) en er een uitspraak gedaan kan worden over fibrose/beginnende cirrose. In de praktijk wordt het leverbiopt alleen ingezet bij verdenking op leverschade of een onderliggende leverziekte. De afweging of een MRI of een leverbiopt de juiste stap is, zal per casus afgewogen dienen te worden.
Bij problemen in het diagnostisch onderzoek naar de oorzaak voor een verhoogd ferritine, kan men voor verdere advisering contact opnemen met het expertisecentrum van het Radboudumc te Nijmegen.
Tabel 1. Differentiaal diagnose verhoogd ferritine bij normale TSAT (<45%) (176)
Serumferritine 300 tot 1000 µg/l*
Metabool syndroom/niet-alcoholische leververvetting
Alcohol
Ontstekingsreactie
Maligniteit
M. Gaucher
Serumferritine 1000 tot 5000 µg/l*
Alcoholisch leverlijden
Virale hepatitis
Secundaire ijzerstapeling
Multipele bloedtransfusies
Ineffectieve erytropoëse
Ferroportin Type 4A HH (zeldzaam)
Aceruloplasminemie
Hereditaire hyperferritinemie – cataract syndroom (HHCS)
Serumferritine > 5000 µg/l*
Adult-onset M. Still
HLH/MAS
Fulminant leverlijden
* De afkapwaarden voor serumferritine zijn afkomstig uit het artikel van Beaton(176)
Inleiding
Deze module is nieuw in deze richtlijn.
Bij een toenemend aantal patiënten worden bij het onderzoek naar de ijzerstatus afwijkende, verhoogde uitslagen gezien. Het is in de praktijk niet altijd meteen vast te stellen of deze uitslagen secundair zijn aan andere ziekten/aandoeningen, dan wel bij een vorm van teveel aan ijzer passen.
Alvorens de diagnostiek naar hereditaire hemochromatose in te zetten, moeten aandoeningen als metabool syndroom, hematologische ziekten, hepatitis e.d. als mogelijke oorzaak voor de gevonden afwijkingen worden uitgesloten. Bij een transferrinesaturatie van meer dan 45 procent en een serumferritine spiegel boven de referentiewaarde geldend in het betreffende ziekenhuis, wordt diagnostiek naar hereditaire hemochromatose aanbevolen.
Hieronder wordt verstaan: aanvullend DNA-onderzoek door middel van sequencing van het gehele HFE-gen en de genen betrokken bij HH types 2-4. Daarnaast zijn er recent enkele genen ontdekt zoals het eerder genoemde BMP6 (module ´Genetisch onderzoek bij Hemochromatose´) die ook worden onderzocht. Dit onderzoek wordt aangeduid met de term 'panel hemochromatose (HFE, HFE2, HAMP, TFR2, SLC40A1, BMP6, FTL, IRE-FTH1)' en wordt aangeboden in het expertisecentrum ijzerstofwisselingsziekten, in Nijmegen, stichting klinisch genetisch centrum Nijmegen, Radboudumc UMC. Indien ook dit geen diagnose oplevert kan in overleg met het expertisecentrum nog vervolgonderzoek worden verricht door middel van diagnostische whole exome sequencing (WES), eventueel gevolgd door research WES, waarbij met informed consent van de patiënt naar het hele exoom wordt gekeken. Websites: http://www.radboud-ironcenter.com/diagnostics/dna-diagnostics/ of https://order.radboudumc.nl/genetics.
Conclusies
Het is niet bekend wat de diagnostische accuratesse is van diagnostisch aderlaten bij patiënten met de klinische verdenking HH, voor het stellen van de diagnose HH.

Geen evidence beschikbaar
ZEER LAAG

Bij patiënten met hyperferritinemie kan met MRI-onderzoek de leverijzerconcentratie worden gemeten. In de literatuur worden verschillende afkapwaarden met verschillende diagnostische accuratesse besproken. De werkgroep concludeert dat als de uitslag boven de pragmatisch gestelde grens van 100 µmol/g komt, er waarschijnlijk sprake is van teveel aan ijzer. De oorzaak daarvan is daarmee nog niet vastgesteld.

Alustiza, 2004; St Pierre, 2005; Castiella, 2011; Kreeftenberg, 2000; Sarigianni, 2015(157, 158, 169, 172, 173)
ZEER LAAG

Aanvullend genetisch onderzoek kan bij sommige patiënten met verdenking op HH op basis van serum ijzerparameters maar zonder verklarende C282Y homozygotie en andere oorzaken voor teveel aan ijzer, bijdragen om de diagnose te stellen.

Bryant, 2009(162)
Samenvatting literatuur
Beschrijving studies
Van 16 artikelen werd de volledige tekst bestudeerd.(157, 158, 161-174) Na bespreking van de conceptteksten in de werkgroep werd nog een recent artikel toegevoegd.(175) Tabellen met studiekarakteristieken van de beoordeelde studies zijn te vinden bij de aanverwante producten.
Eén artikel, dat door de auteurs als systematisch onderzoek wordt bestempeld, bleek niet-systematisch onderzoek te betreffen, en is daarom alsnog geëxcludeerd.(174) Eén artikel over het vergelijken van een magnetische ijzer detector susceptometer met MRI voor het kwantificeren van ijzerstapeling is eveneens bij lezing van de volledige tekst geëxcludeerd, omdat dit niet relevant is voor het beantwoorden van de uitgangsvraag.(167) De systematische review van Bryant et al. uit 2009 en die van Cooper uit 2008 bleken gebaseerd te zijn op dezelfde gegevens als de review van Bryant et al. uit 2008 en zijn daarom afgevallen.(163, 165) Een artikel van Gallego et al. bleek bij bestudering van de volledige tekst te gaan over de epidemiologie van hereditaire hemochromatose bij verschillende genotypen, maar geeft geen informatie over de diagnosestelling en valt daarom af.(166) Een artikel over het voorspellen van de waarschijnlijkheid van C282Y homozygotie op basis van transferrine saturatie en ferritineconcentratie sluit eveneens niet aan bij de uitgangsvraag en is geëxcludeerd na bestudering van de volledige tekst van het artikel.(170) Het artikel van Cherfane et al. gaat over misdiagnose op basis van verhoogde ijzerwaarden en sluit niet aan bij de voor deze uitgangsvraag voorgestelde diagnostische interventies.(164) Het artikel van Przygodzki et al. gaat over de diagnostische waarde van leverbiopten; een diagnostische methode die bij voorkeur niet wordt toegepast. (171)
Er bleven na selectie op basis van de volledige tekst van het artikel 9 artikelen over voor beantwoording van de uitgangsvraag.(157, 158, 161, 162, 168, 169, 172, 173, 175). Deze artikelen kunnen onderverdeeld worden in twee thema's, die afzonderlijk zullen worden behandeld:
MRI: 6 artikelen(157, 158, 169, 172, 173, 175)
Specifiek genetisch onderzoek: 3 artikelen(161, 162, 168)
Over de diagnostische accuratesse van diagnostisch aderlaten voor het stellen van de definitieve diagnose hereditaire hemochromatose werd geen evidence gevonden.
Kwaliteit van het bewijs
Een samenvatting van de kwaliteit van bewijs per uitgangsvraag is te vinden bij de aanverwante producten.
MRI
De kwaliteit van de evidence is zeer laag. De zes artikelen bevatten alle een grote kans op vertekening van de resultaten. Ook zijn er problemen met de generaliseerbaarheid van de resultaten. Zo zijn de deelnemers aan de studies van Alustiza et al., Castiella et al. en Runge et al. niet allemaal patiënten met (verdenking) hemochromatose.(157, 158, 175) En ook bevatten veel studies patiënten uit een niet-kaukasische populatie, waarmee ze mogelijk niet vergelijkbaar zijn met de Nederlandse situatie.(157, 158, 172, 173) Ook in de systematische review van Sarigianni et al. zijn niet alleen patiënten met (verdenking) hemochromatose opgenomen.(172) Er is dus sprake van indirect bewijs. Vanwege onvergelijkbaarheid van de studies is het niet mogelijk om een meta-analyse van de resultaten te maken.
Aanvullend genetisch onderzoek
De kwaliteit van de evidence is zeer laag. De drie artikelen bevatten alle een grote kans op vertekening van de resultaten, bijvoorbeeld omdat er geen sprake is van een vergelijkende studie.(168) Ook zijn er mogelijk problemen met de generaliseerbaarheid van de resultaten naar de Nederlandse populatie; er is dus sprake van indirect bewijs.(161) Ook is er sprake van beperkte beschrijving van methoden en resultaten, zodat de betrouwbaarheid van het onderzoek moeilijk in te schatten is.(162) Aanvullend sequencing onderzoek van het gehele HFE gen en genen betrokken bij HH types 2-4 zoals gepubliceerd na de literatuursearch kan alsnog een genetische diagnose opleveren en heeft in die gevallen vanzelfsprekend een hogere kwaliteit van bewijs.(16)
Inhoudelijk resultaat
MRI
Het onderzoek van Alustiza et al. onder 112 patiënten laat zien dat dat met behulp van MRI-onderzoek de diagnose HH gesteld kan worden, wanneer vergeleken wordt met een leverbiopt (waarbij in dit artikel de leverijzerconcentratie leidend is voor het stellen van de diagnose HH). Bij een afkapwaarde van de leverijzerconcentratie van 85 µmol/g is de sensitiviteit 86% en de specificiteit 100%. Bij een afkapwaarde van 40 µmol/g is de sensitiviteit 100% en de specificiteit 81%.(158) Ook het onderzoek van Castiella et al. onder 171 patiënten laat zien dat MRI van waarde kan zijn voor het stellen van de diagnose HH. Bij een afkapwaarde van 170 µmol/g is de sensitiviteit 69% en de specificiteit 100%; bij een afkapwaarde van 60 µmol/g is de sensitiviteit 100% en de specificiteit 75%. De auteurs geven hierbij aan dat de Rennes methode die zij gebruikt hebben de neiging heeft tot overschatting van het teveel aan ijzer.(157) De studie van Kreeftenberg et al. onder 23 patiënten waarin MRI met een biopt werd vergeleken heeft als resultaat een correlatie van 0,929. De auteurs geven aan dat kwantitatieve beoordeling alleen mogelijk is bij ernstige teveel aan ijzer in de lever en zij concluderen dat een biopt nodig blijft.(169) Sarigianne et al publiceerden een systematische review over de diagnostische accuratesse van MRI om teveel aan ijzer in de lever te bepalen bij ondermeer patiënten met hereditaire hemochromatose. Ook in deze review bleek meta-analyse van de resultaten niet mogelijk vanwege heterogeniteit van de data. De gevonden sensitiviteit varieerde van 0,00 tot 1,00 (mediaan 0,94) en de gevonden specificiteit van 0,50 tot 1,00 (mediaan 0,89). Ook deze auteurs concluderen dat er sprake is van zwak bewijs.(172) Het onderzoek van St. Pierre et al. ten slotte bepaalde de diagnostische accuratesse van MRI bij 105 patiënten in vergelijking met een leverbiopt. Ook in deze studie werden verschillende afkapwaarden geëvalueerd. Bij een drempelwaarde van bijvoorbeeld 1,8 mg/g (32 µmol/g) werd een sensitiviteit van 0,94 en een specificiteit van 1,00 gevonden voor het overschrijden van de bovennormale grens voor leverijzerconcentratie.(173) Het nadien toegevoegde onderzoek van Runge et al. vergeleek drie manieren om middels MRI-onderzoek de leverijzerconcentratie te bepalen.(175) In dit retrospectieve onderzoek werden 114 patiënten geïncludeerd die MRI-onderzoek naar bepaling van de leverijzerconcentratie ondergingen, van wie 12% met de indicatie hemochromatose. De auteurs concluderen dat de R2*-bepaling de methode van eerste keus is, vanwege de grote diagnostische accuratesse en de goede uitvoerbaarheid.
Specifiek genetisch onderzoek
Bryant et al. publiceerden een systematische review waarmee zij de klinische validiteit en bruikbaarheid van genetisch onderzoek voor de diagnostiek van hereditaire hemochromatose hebben geëvalueerd. In dit onderzoek werden 11 patiënt-controle onderzoeken geïncludeerd met in totaal 1518 patiënten en 2119 controles, waarbij DNA-onderzoek met 'diagnostiek op andere wijze' (niet duidelijk omschreven) werd vergeleken en de definitie van HH varieerde. De auteurs vonden een sensitiviteit die varieert van 72% tot 100% en een specificiteit die varieert van 99% tot 100%. Er zijn in deze studie geen gegevens gevonden over de klinische bruikbaarheid van de test (ten aanzien van bijvoorbeeld morbiditeit en mortaliteit).(162)
Een recenter onderzoek gaat in op de specifieke techniek van het onderzoek, waar bij 212 bloed samples het gebruik van PCR met a-fosforothioaat-gemedieerde primer extensie en colorimetrische bepaling werd vergeleken met 'restriction fragment length polymorphism'. De diagnostische accuratesse voor mutaties is hierbij als volgt: haplotype mutaties: sensitiviteit 0,98 en specificiteit 1,00, en voor de detectie van het fenotype is de sensitiviteit in dit onderzoek 1,00 en de specificiteit ook 1,00.(161) Kingston et al. ten slotte beschreven de resultaten van een niet vergelijkend onderzoek waarbij zij keken naar PCR en analyse met GeneScans van 5327 bloed samples. Zij komen niet met resultaten die deze uitgangsvraag kunnen beantwoorden.(168)
Zoeken en selecteren
Voor deze uitgangsvraag is in Medline gezocht naar literatuur op 8 november 2016. De literatuur is vervolgens geselecteerd op basis van onderwerp (sluit het artikel aan bij de uitgangsvraag?) en studiekenmerken (ten minste systematisch opgezet onderzoek). De volledige literatuursearch en literatuurselectie zijn weergegeven in de zoekverantwoording.
Referenties
Autorisatiedatum en geldigheid
Laatst beoordeeld : 28-10-2018
Laatst geautoriseerd : 28-10-2018
De commissie richtlijnen van de Nederlandse Internisten Vereniging beziet jaarlijks of herziening van (delen van) deze richtlijn noodzakelijk is. Indien dat het geval is, dan spant de Nederlandse Internisten Vereniging zich ervoor in om de voorwaarden hiervoor te realiseren.
Initiatief en autorisatie
Algemene gegevens
Met ondersteuning van
PROVA
Financiering
De richtlijnontwikkeling werd gefinancierd uit de Stichting Kwaliteitsgelden Medisch Specialisten.
Doel en doelgroep
Doel
Het doel van deze richtlijn is de kwaliteit van zorg en patiëntveiligheid van patiënten met (verdenking op of verhoogde kans op) hereditaire hemochromatose te waarborgen en waar mogelijk te verbeteren. In deze richtlijn worden aanbevelingen geformuleerd die professionals in de zorg hiertoe de handvaten geven.
Doelgroep
De doelgroep van deze richtlijn zijn professionals die zich bezighouden met medisch specialistische zorg voor patiënten met (verdenking op of verhoogde kans op) hereditaire hemochromatose. Hieronder worden in ieder geval verstaan: internisten, maag-darm-leverartsen, hematologen, radiologen, klinisch chemici en klinisch genetici. Maar, ook anderen kunnen deze richtlijn gebruiken.
Samenstelling werkgroep
Voor de ontwikkeling van deze richtlijn is een werkgroep geformeerd onder voorzitterschap van dr. Alexander Rennings, internist, vasculair geneeskundige, klinisch farmacoloog. In de werkgroep hadden gemandateerde vertegenwoordigers van de belangrijkste beroepsverenigingen die te maken hebben met de specialistische zorg rondom patiënten met (verdenking op of verhoogde kans op) hereditaire hemochromatose zitting. Om het patiëntenperspectief te waarborgen, hadden twee vertegenwoordigers van de Hemochromatose Vereniging Nederland eveneens zitting in de werkgroep. De werkgroep is procedureel en methodologisch ondersteund door PROVA en logistiek door het bureau van de Nederlandse Internisten Vereniging. De ontwikkeling van deze richtlijn is gefinancierd vanuit een projectbudget door de Stichting Kwaliteitsgelden Medisch Specialisten.
Dhr. dr. Alexander Rennings, internist, vasculair geneeskundige, klinisch farmacoloog, Radboudumc, Maartenskliniek, Nijmegen, voorzitter
Mw. drs. Mariska Tuut, epidemioloog, PROVA, Varsseveld, secretaris
Dhr. dr. Cees van Deursen, internist, Zuyderland Medisch Centrum, Heerlen, Maastricht UMC+, Maastricht
Mw. dr. Esther Jacobs, internist-hematoloog, Elkerliek Ziekenhuis, Helmond
Mw. prof. dr. Dorine Swinkels, arts klinische chemie, Radboudumc, Nijmegen
Mw. drs. Khalida Soufidi, MDL-arts, Zuyderland Medisch Centrum, Heerlen
Dhr. dr. Menno van der Waart, biochemicus, hemochromatose patiënt, bestuurslid van de Hemochromatose Vereniging Nederland, Oss
Dhr. drs. Henk Jacobs, arts, hemochromatose patiënt, voorzitter van de Hemochromatose Vereniging Nederland, Hapert
Dhr. dr. Jacques Giltay, klinisch geneticus, UMC Utrecht
Dhr. drs. Sebastiaan van Koeverden, radioloog, Radboudumc, Nijmegen
Belangenverklaringen
Alle leden van de werkgroep hebben een belangenverklaring ingevuld. Hieruit bleken geen beperkingen voor deelname aan de werkgroep.
Naam

Hoofdfunctie

Nevenfunctie

Persoonlijke financiële belangen

Persoonlijke relaties

Reputatie-management

Extern gefinancierd onderzoek

Kennis-valorisatie

Overige belangen

Alexander Rennings

Internist Radboudumc en St. Maartenskliniek

Lid werkgroep geneesmiddelen van de Orde

-

-

Voor mijn aanstelling binnen het Radboudumc waarbij ik de voortrekkersrol heb voor de patiëntenzorg hemochromatose is het belangrijk dat ik mij daarin landelijk profileer

Medisch adviseur HVN, vergoeding: onkosten

-

-

Werk in het Radboudumc nauw samen met Dorine Swinkels binnen het expertisecentrum ijzerstofwisselingsziekten

Mariska Tuut

Eigenaar PROVA

-

-

-

-

-

-

-

Cees van Deursen

Internist Zuyderland MC

-

-

-

Medisch adviseur HVN, sinds 2000, vergoeding: onkosten

-

-

-

Esther Jacobs

Internist-hematoloog

Lid commissie richtlijnen NvVH

-

-

Medisch adviseur HVN, vergoeding: onkosten

-

-

-

Dorine Swinkels

Hoogleraar experimentele klinische chemie

-

-

-

Lid Medische Adviesraad HVN, sinds 1999, vergoeding: pro deo

Primus inter pares van het Radboudumc expertisecentrum zeldzame aandoeningen van de ijzerstofwisseling

-

Ik ben een werknemer van het Radboudumc dat analyses van het ijzerhormoon hepcidine en ijzergenen aanbiedt voor wetenschappelijk onderzoek, patiëntenzorg en farmaceutische industrie

-

Khalida Soufidi

Maag Darm en Leverarts

-

-

-

-

-

-

-

Jacques Giltay

Klinisch geneticus

-

-

-

-

-

-

-

Menno van der Waart

Bestuurslid HVN

Lid Bondsraad Consumentenbond

-

-

Lid bestuur HVN, speerpunt P&R, sinds 2015, vergoeding: onkosten

-

-

-

Henk Jacobs

Voorzitter HVN

-

-

-

Lit bestuur HVN, vergoeding: onkosten

-

-

-

Sebastiaan van Koeverden

Radioloog Radboudumc

-

-

-

-

-

-
Methode ontwikkeling
Implementatie
Gedurende het hele proces van richtlijnontwikkeling is rekening gehouden met implementatie van de richtlijn in de praktijk, bijvoorbeeld bij de samenstelling van de werkgroep, de brede knelpunteninventarisatie en de uitgebreide commentaarronde.
Na autorisatie van de richtlijn wordt deze ten minste op de website van de Nederlandse Internisten Vereniging gepubliceerd. Ook andere deelnemende partijen zijn vrij de richtlijn op hun website te publiceren. De richtlijn wordt ter publicatie aangeboden aan www.richtlijnendatabase.nl. Daarnaast wordt getracht samenvattingen van de richtlijn in Nederlandse tijdschriften te publiceren, aandacht aan de richtlijn te besteden op congressen, en nascholingsmateriaal en voorlichtingsmateriaal te ontwikkelen, om zo de implementatie van de richtlijn te bevorderen.
In aansluiting op de informatie in deze richtlijn is een consultkaart ontwikkeld, een keuzehulp die patiënten kan helpen bij de keuze tussen verschillende vormen van behandeling.
Werkwijze
Knelpunteninventarisatie
In een invitational conference, gehouden op 17 februari 2016 zijn knelpunten in de zorg voor patiënten met (verdenking op of verhoogde kans op) hereditaire hemochromatose geïnventariseerd. Voor deze invitational conference waren de volgende partijen uitgenodigd:
Werkgroepleden
Nederlandse Vereniging voor Radiologie
Nederlandse Vereniging voor Reumatologie
Nederlands Huisartsen Genootschap
Nederlandse Vereniging voor Pathologie
Sanquin
Zorgverzekeraars Nederland
Nederlandse Vereniging van Ziekenhuizen
Nederlandse Federatie van Universitair Medische Centra
Nefarma
ZorgInstituut Nederland
Patiëntenfederatie Nederland
Inspectie voor de Gezondheidszorg
Nederlandse ZorgAutoriteit
Verpleegkundigen & Verzorgenden Nederland
Nederlandse Vereniging van ZiekenhuisApothekers
Koninklijke Nederlandse Maatschappij ter bevordering der Pharmacie
De richtlijnwerkgroep heeft in de eerste werkgroepvergadering eveneens knelpunten geïdentificeerd. Deze zijn in de invitational conference ter commentaar voorgelegd aan de deelnemers.
In de tweede vergadering van de richtlijnwerkgroep zijn de in de richtlijn te behandelen knelpunten en uitgangsvragen vastgesteld.
Uitwerking knelpunten en uitgangsvragen in conceptrichtlijn
Om de uitgangsvragen te beantwoorden is op systematische wijze per uitgangsvraag de evidence beoordeeld (zie hiervoor de inhoudelijke modules). Hierbij is gebruik gemaakt van de GRADE methodiek. Voor achtergrondinformatie hierover wordt verwezen naar de Nederlandse handleiding voor het gebruik van GRADE.(2) De evidence is samengevat door de epidemioloog in de werkgroep, met inhoudelijke input en feedback van de inhoudelijk experts in de werkgroep. Per uitgangsvraag was hiervoor een aantal 'ambassadeurs' aangewezen. De praktische overwegingen en conceptaanbevelingen zijn voorbereid door deze 'ambassadeurs' per uitgangsvraag. De aanbevelingen, en de gehele conceptrichtlijn, zijn plenair door de werkgroep vastgesteld.
Integratie oude richtlijn
Relevante delen uit de richtlijn hereditaire hemochromatose uit 2007 zijn enigszins geactualiseerd in deze nieuwe richtlijn geïntegreerd.(1) Voor deze delen van de tekst is geen systematisch literatuuronderzoek gedaan. Deze teksten kennen een wat andere opbouw in vergelijking met de paragrafen over de nieuwe knelpunten. Per module is aangegeven of dit nieuwe of geactualiseerde tekst betreft.
Procedure voor commentaar en autorisatie
De conceptrichtlijn is ter commentaar aangeboden aan alle partijen die bij de knelpunteninventarisatie om input gevraagd zijn. Het binnengekomen commentaar is door de werkgroep beoordeeld en verwerkt in de richtlijn. Daarbij is beargumenteerd welke commentaren wel en welke niet zijn overgenomen.
Daarna is de richtlijn ter autorisatie voorgelegd aan de partijen die in de werkgroep vertegenwoordigd zijn. De richtlijn is geautoriseerd door de Nederlandse Internisten Vereniging, de Hemochromatose Vereniging Nederland, de Nederlandse Vereniging van Maag-Darm-Leverartsen, de Nederlandse Vereniging voor Klinische Chemie en Laboratoriumgeneeskunde, de Nederlandse Vereniging voor Radiologie en de Vereniging Klinische Genetica Nederland.
Juridische betekenis van richtlijnen
Richtlijnen zijn geen wettelijke voorschriften, maar op 'evidence' gebaseerde inzichten en aanbevelingen waaraan zorgverleners moeten voldoen om kwalitatief goede zorg te verlenen. Na autorisatie van de richtlijn door een beroepsvereniging, wordt de richtlijn gezien als deel van de 'professionele standaard'. Aangezien de aanbevelingen hoofdzakelijk gebaseerd zijn op de 'gemiddelde patiënt', kunnen zorgverleners op basis van hun professionele autonomie waar nodig afwijken van de richtlijn. Afwijken van richtlijnen kan in bepaalde situaties zelfs noodzakelijk zijn. Wanneer van de richtlijn wordt afgeweken, dient dit beargumenteerd en gedocumenteerd te worden.
Zoekverantwoording
Diagnostisch vervolgonderzoek Hemochromatose