Hereditaire

hemochromatose (HH)
Uitgangsvraag
Wat is de streefwaarde van het ferritine (tijdens de onderhoudsfase) voor aderlaten en kan TSAT hier een rol in spelen om individueel maatwerk te leveren?
P Patiënten met diagnose hereditaire hemochromatose die nog niet zijn behandeld
I Aderlaten vanaf verschillende afkappunten
C -
O Voorkomen eindorgaanschade (overleving, diabetes mellitus, levercirrose, hartfalen), klachten (bijv. gewrichtsklachten)

De setting voor deze uitgangsvraag is de tweedelijns gezondheidszorg in Nederland.
Aanbeveling
| | |
| --- | --- |
| Zwak | Na adequate ijzerdepletie kan standaard een onderhoudsbehandeling worden gegeven, waarna behandeling alleen wordt gestart als de ferritine concentratie boven de bovengrens van normaal stijgt. Indien bij patiënten desondanks de TSAT boven de 70% blijft of wanneer bij de aan hereditaire hemochromatose toegeschreven klachten of symptomen blijven bestaan, is er ruimte voor maatwerk. |
Overwegingen
Er zijn geen data over het optimale streefwaarden tijdens de onderhoudsfase.
Alhoewel in de uitgangsvraag alleen de streefwaarde voor de onderhoudsfase wordt benoemd, geeft de werkgroep hier ook een handvat voor streefwaarden tijdens de depletiefase.
In de bestaande internationale richtlijnen wordt voor de depletiefase geadviseerd te streven naar een ferritine < 50 µg/l, maar bewijs daarvoor is nihil.(106, 153) Het streven naar een dergelijk lage ferritineconcentratie heeft als nadeel dat er een risico op ijzergebrek en anemie ontstaat. Sommige patiënten houden klachten van complicaties na de depletiefase. Er is beschreven dat bijvoorbeeld leverfibrose reversibel is met aderlaten. Derhalve zou dit reden kunnen zijn om te streven naar een lagere streefwaarde van ferritine bij patiënten met klachten, mits de patiënt aderlating goed verdraagt en het Hb voor aanvang van de aderlating niet verlaagd is. De recente studie van Bardou-Jacquet laat zien dat langdurige blootstelling aan een TSAT>50% een mogelijk verhoogde kans op complicaties geeft.(183) Tevens zijn er aanwijzingen dat een TSAT> 70% leidt tot (toxisch) NTBI vorming (niet transferrine gebonden ijzer), maar ook dat het streven naar een normalisatie van TSAT een grotere kans geeft op het ontstaan van een anemie na aderlaten.(88, 197) (198) Anderzijds lijkt de daling in het ferritine beter te correleren met de hoeveelheid onttrokken ijzer dan daling in TSAT. Om die reden is er iets voor te zeggen om het advies met betrekking tot de streefwaarden te baseren op een combinatie van streefwaarden voor ferritine en TSAT en daarbij individueel maatwerk te leveren.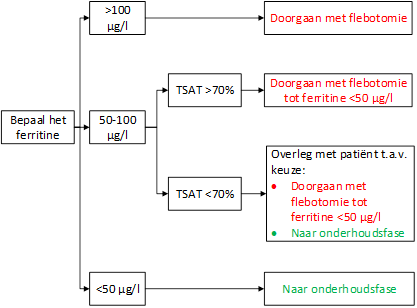 Figuur 1. Indicatie streefwaarden tijdens depletiefase behandeling
Tijdens de onderhoudsfase adviseren internationale richtlijnen om te streven naar een ferritine tussen de 50 en 100 µg/l.(106, 153) In de Nederlandse richtlijn van 2007 is ervoor gekozen voor een advies waarbinnen het mogelijk wordt om het ferritine op te laten lopen naar de bovengrens van normaal. Dit heeft als voordeel dat er minder aderlatingen in de tijd nodig zijn, omdat de vicieuze cirkel van aderlaten, ferritinedaling en hepcidinedaling met daardoor snelle reaccumulatie van de ijzervoorraden in de tijd kan worden voorkomen. Bij klachten en/of TSAT> 70% wordt een lagere waarde van ferritine nagestreefd, mits dit niet leidt tot anemie en de patiënt de behandeling goed verdraagt.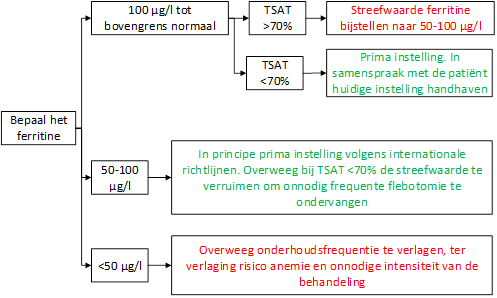 Figuur 2. Indicatie streefwaarden ferritine tijdens onderhoudsfase behandeling
Inleiding
Deze module is nieuw in deze richtlijn.
Bij het schrijven van de oude Nederlandse richtlijn in 2007 bestond internationaal nog de gewoonte om in de depletiefase een serumferritineconcentratie van < 50 µg/l na te streven. Bewijs hiervoor bestond echter niet. Daarnaast heeft de oude Nederlandse richtlijn ervoor gekozen om in de fase die volgt op de depletiefase -te weten de onderhoudsfase - een streefwaarde van < bovengrens van normaal aan te houden op grond van theoretische overwegingen. Anno 2018 gelden die overwegingen nog steeds en kunnen als volgt opgesomd worden. Een lage ferritinewaarde verhoogt de kans op anemie, maar ook op andere ijzergebrek gerelateerde klachten. Ten tweede kan beredeneerd worden met de huidige kennis ten aanzien van het hepcidine dat bij lage ferritinewaarden en verhoogde erytropoëse het hepcidine alleen maar zal dalen met als gevolg dat ijzer nog eenvoudiger uit het dieet wordt opgenomen.(191, 192) Ten derde is het onwaarschijnlijk dat een ferritineconcentratie tot de bovenwaarde van normaal tot ijzerstapeling leidt. Vanuit pathofysiologisch perspectief is het mogelijk beter om een combinatie van TSAT en ferritinewaarden streefwaarden te hanteren. In deze module worden aanbevelingen voor deze streefwaarden onderbouwd.
Conclusies
| | |
| --- | --- |
| ZEER LAAG | Op basis van de literatuur search is er geen hard bewijs voor een optimale streefwaarde van het ferritine voor het aderlaten in de depletie- en onderhoudsfase, en voor TSAT als biomarker om individueel maatwerk te leveren. |
ZEER LAAG

Een langdurige blootstelling aan een TSAT> 50% in de onderhoudsfase van behandeling van HH is mogelijk geassocieerd met (verergering van) gewrichtsklachten, vermindering van het libido en belastbaarheid.

Bardou-Jacquet 2017
Samenvatting literatuur
Beschrijving studies
Van 9 artikelen werd de volledige tekst bestudeerd. Tabellen met studiekarakteristieken van de beoordeelde studies zijn te vinden bij de aanverwante producten.(181-183, 186, 187, 193-196)
Het artikel van Ong et al. bleek bij bestudering van de volledige tekst om een studieprotocol te gaan. Hierin wordt beschreven dat de auteurs een multicenter randomized controlled trial gaan uitvoeren, waarbij symptomen en ziektekenmerken bij patiënten met matig verhoogde serum ferritine vergeleken worden tussen groepen die al dan niet worden behandeld. Dit lijkt een uiterst relevante studie voor deze uitgangsvraag, maar de resultaten ervan zijn nog niet bekend.(187) Dit artikel is daarom geëxcludeerd. Het artikel van Liu et al. is eveneens geëxcludeerd, omdat dit geen systematisch onderzoek betreft, ondanks dat de auteurs het tegendeel beweren.(195) Ook andere van de gevonden artikelen bleken bij bestudering van de volledige tekst niet relevant voor beantwoording van de uitgangsvraag. (182) (186) (194) (196)
Er bleven na selectie op basis van de volledige tekst van het artikel 2 artikelen over voor beantwoording van de uitgangsvraag.(183, 193)
Kwaliteit van het bewijs
Een samenvatting van de kwaliteit van bewijs per uitgangsvraag is te vinden bij de aanverwante producten. De kans op vertekening van de resultaten is erg groot, vanwege het niet vergelijkende design en de retrospectieve opzet van een aantal geïncludeerde studies. Bovendien zijn de methoden in een aantal studies beperkt beschreven. Ook is er waarschijnlijk sprake van indirect bewijs, omdat het onderzoek bij niet-kaukasische pa-tiënten betreft. De studie van Bardou-Jacquet tenslotte is een prospectief cohortonderzoek, met een zeer grote uitval en een beperkt aantal variabelen.(183)
Inhoudelijk resultaat
Bardou-Jacquet et al. includeerden 266 patiënten met hereditaire hemochromatose onder onderhoudsbehandeling in hun prospectieve onderzoek.(183) De gemiddelde follow-up in dit onderzoek was 13,4 jaar, waarbij werd gekeken naar associaties tussen enerzijds een verhoogde transferrinesaturatie (≥ 50%) en serumferritine (≥ 50 µg/l) en anderzijds klachten en symptomen. De auteurs concludeerden dat langdurig verhoogd serumferritine (2,5 jaar) en transferrinesaturatie (8 jaar) geassocieerd waren met gewrichtssymptomen en verminderde mogelijkheden tot sporten en werken, en verminderd libido.
Adams et al. onderzochten bij 100 C282Y homozygoten of er een drempelwaarde van ijzerstapeling is die leidt tot cirrose. De auteurs rapporteren dat bij patiënten met cirrose de leverijzerconcentratie hoger is dan bij patiënten zonder cirrose. Een optimale drempel van de lever ijzerconcentratie stellen zij op 283 µmol/g. Bij die afkapwaarde is de sensitiviteit 0,85 en de specificiteit 0,84 voor het voorspellen van cirrose. De auteurs concluderen dat teveel aan ijzer in de lever geassocieerd is met cirrose, maar dat ook andere factoren van belang zijn. De relevantie van dit artikel voor het beantwoorden van deze uitgangsvraag is beperkt, omdat er leverijzerwaarden nodig zijn.(193)
Een meta-analyse van de gevonden resultaten was niet mogelijk, vanwege heterogeniteit in opzet en uitkomstmaten van de studies.
Zoeken en selecteren
Voor deze uitgangsvraag is in Medline gezocht naar literatuur op 8 november 2016. De literatuur is vervolgens geselecteerd op basis van onderwerp (sluit het artikel aan bij de uitgangsvraag?) en studiekenmerken (ten minste systematisch opgezet onderzoek). Op verzoek van de werkgroep is een artikel, verschenen na de literatuursearch toegevoegd.(183) De volledige literatuursearch en literatuurselectie zijn weergegeven in de zoekverantwoording.
Referenties
Autorisatiedatum en geldigheid
Laatst beoordeeld : 28-10-2018
Laatst geautoriseerd : 28-10-2018
De commissie richtlijnen van de Nederlandse Internisten Vereniging beziet jaarlijks of herziening van (delen van) deze richtlijn noodzakelijk is. Indien dat het geval is, dan spant de Nederlandse Internisten Vereniging zich ervoor in om de voorwaarden hiervoor te realiseren.
Initiatief en autorisatie
Algemene gegevens
Met ondersteuning van
PROVA
Financiering
De richtlijnontwikkeling werd gefinancierd uit de Stichting Kwaliteitsgelden Medisch Specialisten.
Doel en doelgroep
Doel
Het doel van deze richtlijn is de kwaliteit van zorg en patiëntveiligheid van patiënten met (verdenking op of verhoogde kans op) hereditaire hemochromatose te waarborgen en waar mogelijk te verbeteren. In deze richtlijn worden aanbevelingen geformuleerd die professionals in de zorg hiertoe de handvaten geven.
Doelgroep
De doelgroep van deze richtlijn zijn professionals die zich bezighouden met medisch specialistische zorg voor patiënten met (verdenking op of verhoogde kans op) hereditaire hemochromatose. Hieronder worden in ieder geval verstaan: internisten, maag-darm-leverartsen, hematologen, radiologen, klinisch chemici en klinisch genetici. Maar, ook anderen kunnen deze richtlijn gebruiken.
Samenstelling werkgroep
Voor de ontwikkeling van deze richtlijn is een werkgroep geformeerd onder voorzitterschap van dr. Alexander Rennings, internist, vasculair geneeskundige, klinisch farmacoloog. In de werkgroep hadden gemandateerde vertegenwoordigers van de belangrijkste beroepsverenigingen die te maken hebben met de specialistische zorg rondom patiënten met (verdenking op of verhoogde kans op) hereditaire hemochromatose zitting. Om het patiëntenperspectief te waarborgen, hadden twee vertegenwoordigers van de Hemochromatose Vereniging Nederland eveneens zitting in de werkgroep. De werkgroep is procedureel en methodologisch ondersteund door PROVA en logistiek door het bureau van de Nederlandse Internisten Vereniging. De ontwikkeling van deze richtlijn is gefinancierd vanuit een projectbudget door de Stichting Kwaliteitsgelden Medisch Specialisten.
Dhr. dr. Alexander Rennings, internist, vasculair geneeskundige, klinisch farmacoloog, Radboudumc, Maartenskliniek, Nijmegen, voorzitter
Mw. drs. Mariska Tuut, epidemioloog, PROVA, Varsseveld, secretaris
Dhr. dr. Cees van Deursen, internist, Zuyderland Medisch Centrum, Heerlen, Maastricht UMC+, Maastricht
Mw. dr. Esther Jacobs, internist-hematoloog, Elkerliek Ziekenhuis, Helmond
Mw. prof. dr. Dorine Swinkels, arts klinische chemie, Radboudumc, Nijmegen
Mw. drs. Khalida Soufidi, MDL-arts, Zuyderland Medisch Centrum, Heerlen
Dhr. dr. Menno van der Waart, biochemicus, hemochromatose patiënt, bestuurslid van de Hemochromatose Vereniging Nederland, Oss
Dhr. drs. Henk Jacobs, arts, hemochromatose patiënt, voorzitter van de Hemochromatose Vereniging Nederland, Hapert
Dhr. dr. Jacques Giltay, klinisch geneticus, UMC Utrecht
Dhr. drs. Sebastiaan van Koeverden, radioloog, Radboudumc, Nijmegen
Belangenverklaringen
Alle leden van de werkgroep hebben een belangenverklaring ingevuld. Hieruit bleken geen beperkingen voor deelname aan de werkgroep.
Naam

Hoofdfunctie

Nevenfunctie

Persoonlijke financiële belangen

Persoonlijke relaties

Reputatie-management

Extern gefinancierd onderzoek

Kennis-valorisatie

Overige belangen

Alexander Rennings

Internist Radboudumc en St. Maartenskliniek

Lid werkgroep geneesmiddelen van de Orde

-

-

Voor mijn aanstelling binnen het Radboudumc waarbij ik de voortrekkersrol heb voor de patiëntenzorg hemochromatose is het belangrijk dat ik mij daarin landelijk profileer

Medisch adviseur HVN, vergoeding: onkosten

-

-

Werk in het Radboudumc nauw samen met Dorine Swinkels binnen het expertisecentrum ijzerstofwisselingsziekten

Mariska Tuut

Eigenaar PROVA

-

-

-

-

-

-

-

Cees van Deursen

Internist Zuyderland MC

-

-

-

Medisch adviseur HVN, sinds 2000, vergoeding: onkosten

-

-

-

Esther Jacobs

Internist-hematoloog

Lid commissie richtlijnen NvVH

-

-

Medisch adviseur HVN, vergoeding: onkosten

-

-

-

Dorine Swinkels

Hoogleraar experimentele klinische chemie

-

-

-

Lid Medische Adviesraad HVN, sinds 1999, vergoeding: pro deo

Primus inter pares van het Radboudumc expertisecentrum zeldzame aandoeningen van de ijzerstofwisseling

-

Ik ben een werknemer van het Radboudumc dat analyses van het ijzerhormoon hepcidine en ijzergenen aanbiedt voor wetenschappelijk onderzoek, patiëntenzorg en farmaceutische industrie

-

Khalida Soufidi

Maag Darm en Leverarts

-

-

-

-

-

-

-

Jacques Giltay

Klinisch geneticus

-

-

-

-

-

-

-

Menno van der Waart

Bestuurslid HVN

Lid Bondsraad Consumentenbond

-

-

Lid bestuur HVN, speerpunt P&R, sinds 2015, vergoeding: onkosten

-

-

-

Henk Jacobs

Voorzitter HVN

-

-

-

Lit bestuur HVN, vergoeding: onkosten

-

-

-

Sebastiaan van Koeverden

Radioloog Radboudumc

-

-

-

-

-

-
Methode ontwikkeling
Implementatie
Gedurende het hele proces van richtlijnontwikkeling is rekening gehouden met implementatie van de richtlijn in de praktijk, bijvoorbeeld bij de samenstelling van de werkgroep, de brede knelpunteninventarisatie en de uitgebreide commentaarronde.
Na autorisatie van de richtlijn wordt deze ten minste op de website van de Nederlandse Internisten Vereniging gepubliceerd. Ook andere deelnemende partijen zijn vrij de richtlijn op hun website te publiceren. De richtlijn wordt ter publicatie aangeboden aan www.richtlijnendatabase.nl. Daarnaast wordt getracht samenvattingen van de richtlijn in Nederlandse tijdschriften te publiceren, aandacht aan de richtlijn te besteden op congressen, en nascholingsmateriaal en voorlichtingsmateriaal te ontwikkelen, om zo de implementatie van de richtlijn te bevorderen.
In aansluiting op de informatie in deze richtlijn is een consultkaart ontwikkeld, een keuzehulp die patiënten kan helpen bij de keuze tussen verschillende vormen van behandeling.
Werkwijze
Knelpunteninventarisatie
In een invitational conference, gehouden op 17 februari 2016 zijn knelpunten in de zorg voor patiënten met (verdenking op of verhoogde kans op) hereditaire hemochromatose geïnventariseerd. Voor deze invitational conference waren de volgende partijen uitgenodigd:
Werkgroepleden
Nederlandse Vereniging voor Radiologie
Nederlandse Vereniging voor Reumatologie
Nederlands Huisartsen Genootschap
Nederlandse Vereniging voor Pathologie
Sanquin
Zorgverzekeraars Nederland
Nederlandse Vereniging van Ziekenhuizen
Nederlandse Federatie van Universitair Medische Centra
Nefarma
ZorgInstituut Nederland
Patiëntenfederatie Nederland
Inspectie voor de Gezondheidszorg
Nederlandse ZorgAutoriteit
Verpleegkundigen & Verzorgenden Nederland
Nederlandse Vereniging van ZiekenhuisApothekers
Koninklijke Nederlandse Maatschappij ter bevordering der Pharmacie
De richtlijnwerkgroep heeft in de eerste werkgroepvergadering eveneens knelpunten geïdentificeerd. Deze zijn in de invitational conference ter commentaar voorgelegd aan de deelnemers.
In de tweede vergadering van de richtlijnwerkgroep zijn de in de richtlijn te behandelen knelpunten en uitgangsvragen vastgesteld.
Uitwerking knelpunten en uitgangsvragen in conceptrichtlijn
Om de uitgangsvragen te beantwoorden is op systematische wijze per uitgangsvraag de evidence beoordeeld (zie hiervoor de inhoudelijke modules). Hierbij is gebruik gemaakt van de GRADE methodiek. Voor achtergrondinformatie hierover wordt verwezen naar de Nederlandse handleiding voor het gebruik van GRADE.(2) De evidence is samengevat door de epidemioloog in de werkgroep, met inhoudelijke input en feedback van de inhoudelijk experts in de werkgroep. Per uitgangsvraag was hiervoor een aantal 'ambassadeurs' aangewezen. De praktische overwegingen en conceptaanbevelingen zijn voorbereid door deze 'ambassadeurs' per uitgangsvraag. De aanbevelingen, en de gehele conceptrichtlijn, zijn plenair door de werkgroep vastgesteld.
Integratie oude richtlijn
Relevante delen uit de richtlijn hereditaire hemochromatose uit 2007 zijn enigszins geactualiseerd in deze nieuwe richtlijn geïntegreerd.(1) Voor deze delen van de tekst is geen systematisch literatuuronderzoek gedaan. Deze teksten kennen een wat andere opbouw in vergelijking met de paragrafen over de nieuwe knelpunten. Per module is aangegeven of dit nieuwe of geactualiseerde tekst betreft.
Procedure voor commentaar en autorisatie
De conceptrichtlijn is ter commentaar aangeboden aan alle partijen die bij de knelpunteninventarisatie om input gevraagd zijn. Het binnengekomen commentaar is door de werkgroep beoordeeld en verwerkt in de richtlijn. Daarbij is beargumenteerd welke commentaren wel en welke niet zijn overgenomen.
Daarna is de richtlijn ter autorisatie voorgelegd aan de partijen die in de werkgroep vertegenwoordigd zijn. De richtlijn is geautoriseerd door de Nederlandse Internisten Vereniging, de Hemochromatose Vereniging Nederland, de Nederlandse Vereniging van Maag-Darm-Leverartsen, de Nederlandse Vereniging voor Klinische Chemie en Laboratoriumgeneeskunde, de Nederlandse Vereniging voor Radiologie en de Vereniging Klinische Genetica Nederland.
Juridische betekenis van richtlijnen
Richtlijnen zijn geen wettelijke voorschriften, maar op 'evidence' gebaseerde inzichten en aanbevelingen waaraan zorgverleners moeten voldoen om kwalitatief goede zorg te verlenen. Na autorisatie van de richtlijn door een beroepsvereniging, wordt de richtlijn gezien als deel van de 'professionele standaard'. Aangezien de aanbevelingen hoofdzakelijk gebaseerd zijn op de 'gemiddelde patiënt', kunnen zorgverleners op basis van hun professionele autonomie waar nodig afwijken van de richtlijn. Afwijken van richtlijnen kan in bepaalde situaties zelfs noodzakelijk zijn. Wanneer van de richtlijn wordt afgeweken, dient dit beargumenteerd en gedocumenteerd te worden.
Zoekverantwoording
Streefwaarde ferritine bij Hemochromatose