Uitgangsvraag
What is the optimal medical treatment for stable cardiac surgical patients who go into AF after cardiac surgery?
Aanbeveling
No drug has definitively been shown to be superior to any other. Amiodarone, digoxin, b-blockers and diltiazem are among the most studied drugs and seem to be associated with relatively few complications.

(Grade B recommendation based on level 2b studies)
Onderbouwing
Samenvatting literatuur
8.1. Potassium
The role of potassium in the treatment of AF after cardiac surgery is not fully understood. Standard practice after cardiac surgery is to maintain serum potassium at the upper half of the normal range (4.5—5.5 mmol/l). The traditionally accepted view is that hypokalaemia predisposes towards potentially fatal ventricular dysrhythmias and that avoiding the risk of hypokalaemia will increase the margin of safety. Whether this helps avoid or treat AF has never been proven scientifically, and is unlikely to be proven in the future as the perceived risk of ventricular dysrhythmias will pose ethical obstacles to the conduction of any randomised trial in which cardiac surgical patients are allocated to a low potassium study arm. In view of this, it seems sensible to continue to recommend correction of absolute or relative hypokalaemia to the upper half of the normal range.
8.2. Pharmacological antiarrhythmic treatment
Evidence was sought for the optimal medical treatment for stable patients going into AF after cardiac surgery. This search is fully documented in the ICVTS (Dunning et al. [69]) together with a summary of all identified papers. We identified 364 papers using the presented search strategy. From these, 12 papers represented the best evidence on this topic. Of note, for this search, if two papers were found investigating the same drug, only the better paper was included. Therefore, for this guideline, the search was repeated and all papers were tabulated (Table 1). Several studies were found that were cohort studies without a control group and these were excluded [70—74]. In order to provide a summary of the 19 studies identified in this area, and of the 12 drugs studied, the regimes, the number of studies, with the number of patients included in the studies and the findings and complications found are summarised in Table 2.
8.2.1. Amiodarone
Five studies assessed amiodarone for the treatment of AF [75—79]. Regimes were broadly similar using 5 mg/kg intravenously over between 5 and 30 min followed by a maintenance regime of 15—40 mg/h. No study used a placebo group and equivalence was demonstrated with digoxin, ibutilide and propafenone. One study demonstrated that quinidine might be superior to amiodarone in a study of 80 patients, although more complications occurred with quinidine. Complications with amiodarone were relatively few with hypotension and bradycardia, the commonest with an incidence of around 10%.
8.2.2. Digoxin
Five studies assessed digoxin for the treatment of AF [75]. Again, no placebo groups were included in these studies but complications with digoxin were particularly low, with three papers reporting no complications at all. However, digoxin was shown to be less effective than procainamide, flecainide, diltiazem and possibly sotalol.
8.2.3. b-Blockers
Four studies assessed b-blockers for the treatment of AF [80—83]. The drugs studied were sotalol, esmolol and metoprolol. High doses of b-blockade did cause a high incidence of hypotension and esmolol had to be withdrawn in nearly 50% of patients included in the study investigating this drug. Again, no placebo groups were included which would allow a more objective assessment of the effect of b-blockers versus other treatments but the identified studies showed superiority over digoxin and diltiazem.
8.2.4. Diltiazem
Four studies investigated diltiazem [82—85]. Regimes were broadly similar using 0.25 mg/kg over 2 min and then a 5 mg/h infusion. The main complication was hypotension and this was around 20%. Diltiazem was shown to be better than placebo and digoxin. Esmolol may be superior to diltiazem but with more complications.
8.2.5. Propafenone
Five studies looked at propafenone [76,79,86—88]. Regimes used were either an iv bolus of 1—2 mg/kg over 10—15 min, followed by an infusion of 10 mg/kg over 24 h or an oral dose of 400 mg. Propafenone caused a high incidence of hypotension and one study reported a mean drop in blood pressure of 9 mmHg. Propafenone was found to be superior to procainamide and perhaps amiodarone, but not different from ibutilide. The remaining drugs are summarised in Table 2. There are several weaknesses with the available studies in this area. Very few use a placebo group and, therefore, it is impossible to compare results of the various drugs across studies against placebo as a baseline. In addition, comparison across the studies is further hampered by a wide variation in the definition of success for each drug, with time spans from 30 min to several days being used to define successful cardioversion. Thus, it is currently impossible definitively to recommend one drug over another for the treatment of AF. The complication profile is an important issue in the selection of a drug to use against AF, and in fact it may be more important to choose treatment in a particular hospital where there is widespread familiarity with the drug and its complications.
Evidence tabellen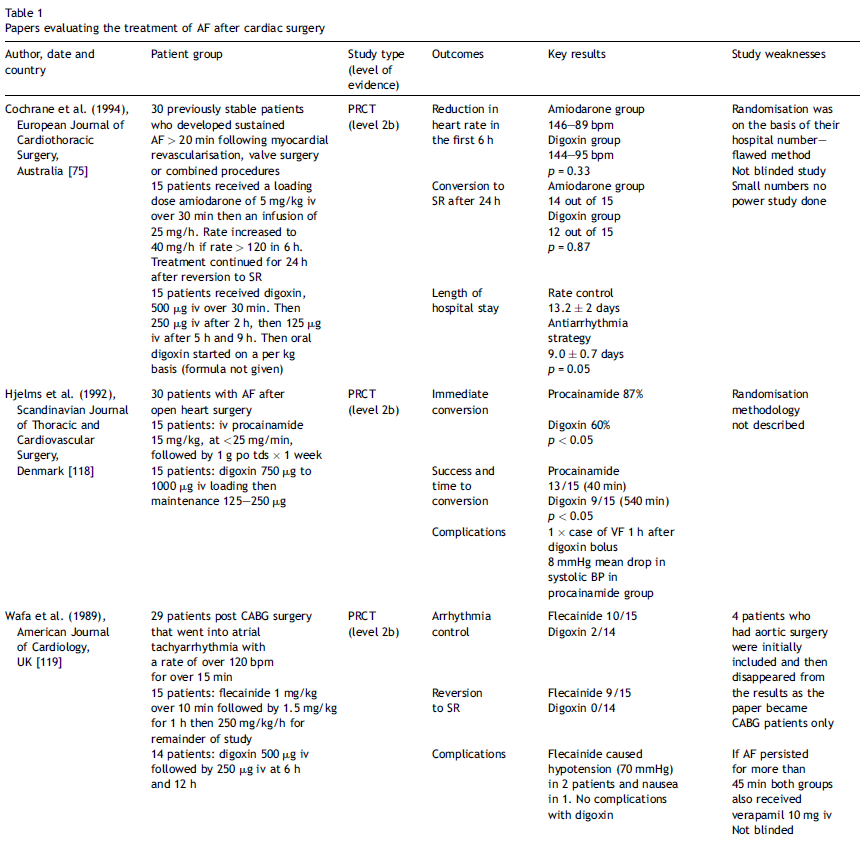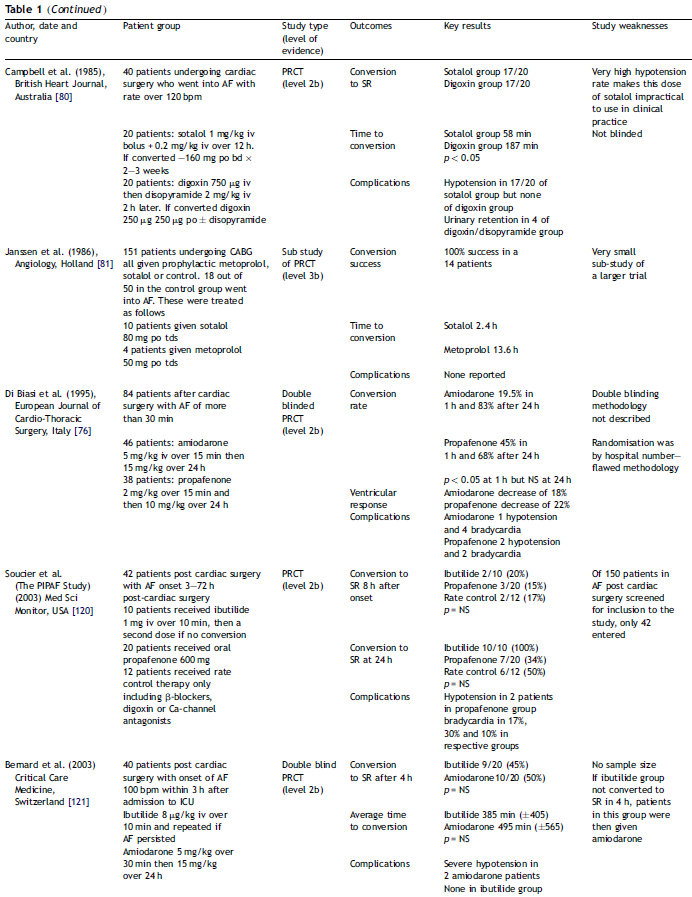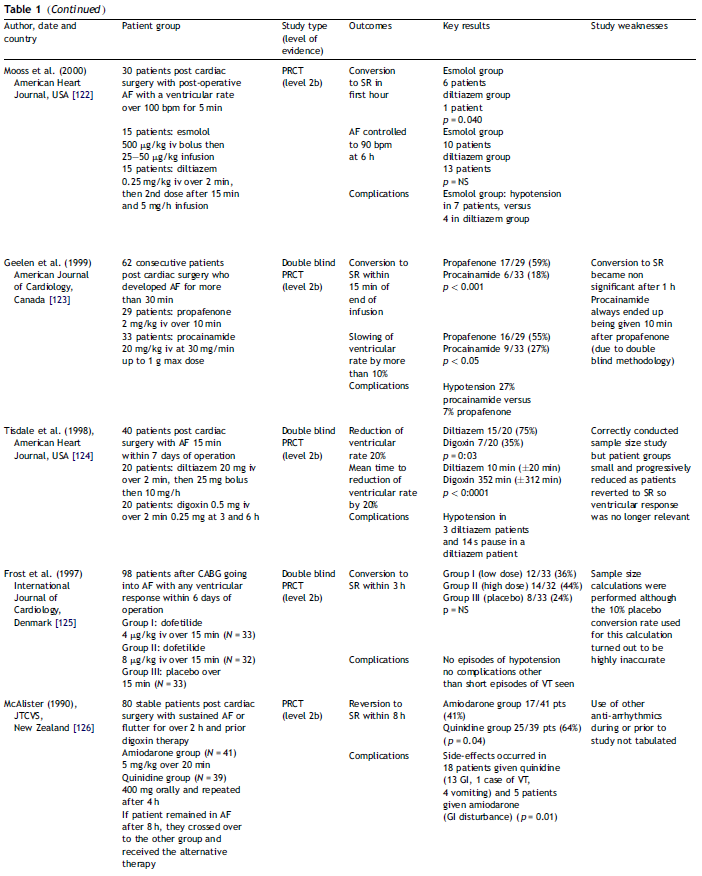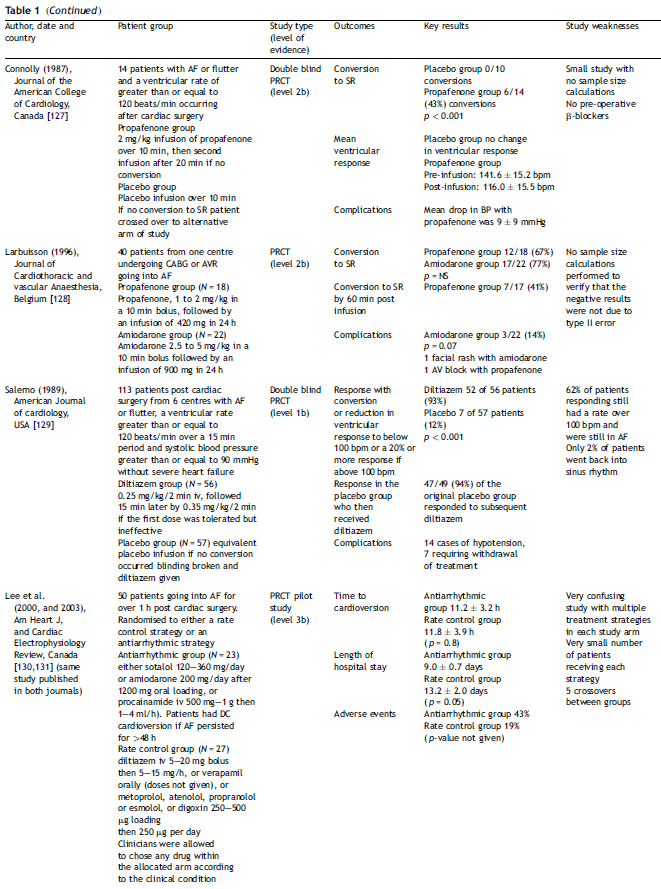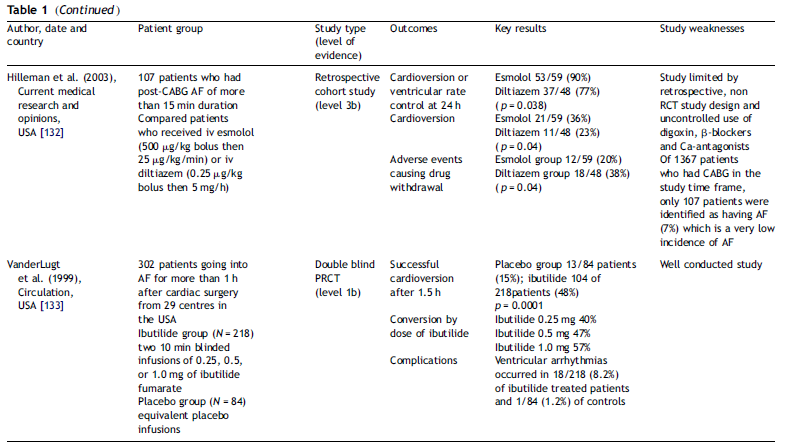 Table 2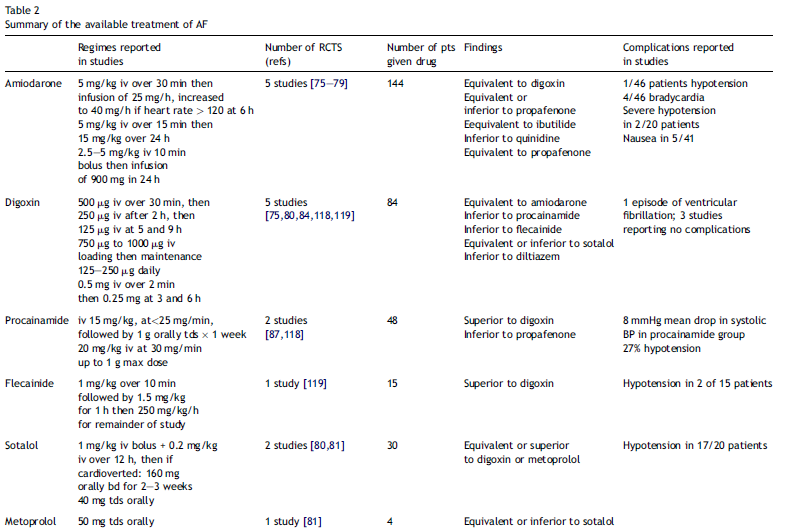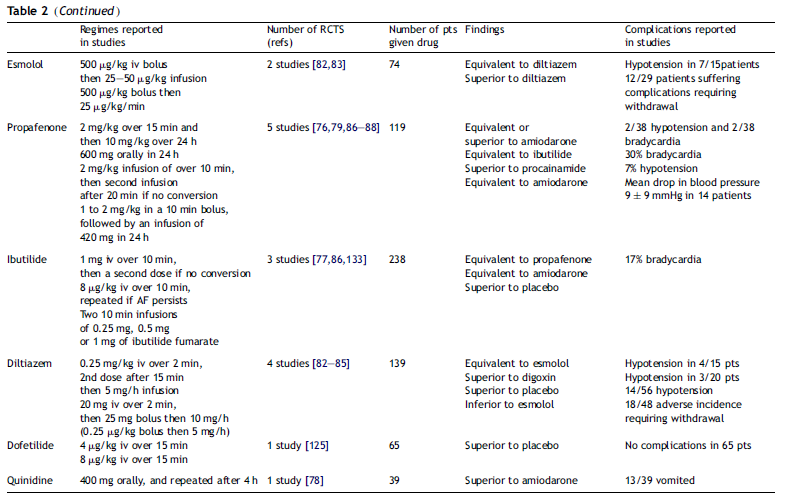 Verantwoording
Autorisatiedatum en geldigheid
Laatst beoordeeld : 26-11-2010
Laatst geautoriseerd : 26-11-2010
Revisiedatum uiterlijk november 2015
Algemene gegevens
Deze richtlijn is mede gebaseerd op de EACTS-guidelines on the prevention and management of de novo atrial fibrillation after cardiac and thoracic surgery.
Notitie specifiek met betrekking op de Nederlandse situatie:
Lees ipv Warfarine: Coumarine-derivaten
Deze notitie vormt een integraal onderdeel van de Engelstalige tekst van de hierbij behorende richtlijn.
Doel en doelgroep
This guideline covers the prophylaxis and treatment of de novo AF in adults undergoing cardiac and thoracic surgery. It includes recommendations for intra-operative strategies to
minimise the incidence of AF, the pharmacological treatment of AF and recommendations for anticoagulation of these patients. In addition, monitoring and ward management
of these patients are also addressed. It excludes recommendations for the surgical management of patients coming to surgery with chronic AF, and recommendations for
patients in chronic AF not undergoing cardiothoracic surgery.
Samenstelling werkgroep
Joel Dunning (James Cook University Hospital, Middlesbrough, UK)
Tom Treasure (Guy's Hospital, London, UK)
Michael Versteegh (Leiden University Medical Center, The Netherlands)
Samer A.M. Nashef (Papworth Hospital, Cambridge, UK)
on behalf of the EACTS Audit and Guidelines Committee
Acknowledgements
The EACTS Audit andGuidelineCommittee is grateful to thefollowing authors for assisting with the literature reviewprocess by publishing Best Evidence Topics for the ICVTS:
Muneer Amanullah, Ali Behranwala, Phil Botha, Mohammed Hanif, Noman Khasati, Graham Morritt, Darbhamulla Nagarajan, Mohammed Nouraei, Brian Nyawo, Savvas Omorphos, Anish Patel, Brian Prendergast, Shahzad Raja, Jagan Rao, Andrew Ronald, Anthony Rostron, Aliu Sanni, Vivek Shrivastava.
Werkwijze
This guideline comprises several novel aspects in the methodology employed in the derivation of this document. Many guidelines are based on a single systematic review and
multiple clinical questions are then answered on the basis of the papers found from this one review. In contrast, we felt that it was important to perform a full literature review for
every single question addressed in order to maximise the robustness of the guideline. We used a structured systematic review protocol named 'Best Evidence Topics' to construct each review, where the search strategy, results of the search and a full appraisal of all papers are published in a structured format. The details of this protocol are described in the Interactive Cardiovascular and Thoracic Surgery (ICVTS) [5]. Guidelines often fall short of expectations due to a failure to consult those clinicians who are most likely to
use them. For this guideline, every literature review has already been published in full in the ICVTS. Every topic was published online and clinicians were able to post comments
on the topic over a 2-month period. These comments were then published together with the full paper in the ICVTS and are now available to all readers in full text online at www.icvts.org.
These guidelines assess individual studies according to recommendations developed and refined over time [5] and previously used in the specialty [6]. Briefly, level 1 papers are
randomised controlled trials, level 2 papers are cohort studies, level 3 papers are case-controlled studies or small cohort studies and level 4 studies are experimental papers.
The 'b' suffix implies that the study is an original article at this level and the 'a' suffix implies that the paper is a systematic review or meta-analysis of papers at that level (further details are available from the website of the Oxford Centre for Evidence based Medicine: http://www.cebm.net/levels_of_evidence.asp 2001).
Systematic literature review was up to the end of 2005. Once recommendations are made, they are graded according to the quality of papers used to come to our conclusion:
Grade A evidence: based on multiple level 1a or level 1b papers
Grade B evidence: based on multiple level 2a/2b papers or individual level 1a/1b papers
Grade C evidence: based on multiple level 3a/3b papers or individual level 2a/2b papers
Grade D evidence: based on individual level 3a/3b papers or level 4 papers
Grade E evidence: based on expert consensus in the absence of acceptable papers