Community acquired diarree
Uitgangsvraag
Empirische therapie bij Community acquired diarree.
Aanbeveling
Empirische antibiotische behandeling is alleen geïndiceerd bij aanhoudende of hoge koorts, bij dysenterie, of als de patiënt immuungecompromitteerd is.
Gelet op de grote kans op fluorochinolon resistentie van humane Campylobacter-isolaten kan empirische therapie voor AID in de vorm van ciprofloxacine onvoldoende zijn.
Aangeraden wordt om te behandelen met azitromycine per os. Bij de noodzaak tot intraveneuze behandeling komt de combinatie van ciprofloxacine en erytromycine in aanmerking.
Overwegingen
Er zijn voor deze richtlijn geen overwegingen opgesteld.
Onderbouwing
Conclusies
Niveau 1

Bij community acquired AID is een gunstig effect waargenomen op duur en ernst van symptomen wanneer binnen een week na aanvang van de klachten gedurende 5 dagen met een fluorochinolon wordt behandeld.

A2 Wiström 242, Goodman 243, Dryden 244

Niveau 1

In een Cochrane Review uit 2008 is de werkzaamheid van azitromycine bij buiktyfus aangetoond.

A1 Effa 254

Niveau 3

Azithromycine lijkt ook werkzaam te zijn bij non-typhi salmonella infecties.

B Tribble 30

Niveau 2

Azithromycine is even effectief als een fluorochinolon voor de behandeling van AID veroorzaakt door (fluorochinolon resistente) Campylobacter, non-typhi Salmonella en Shigella.

B Shanks 61, Kushner 29, Adachi 255, Tribble 30, Khan 60

Niveau 2

Campylobacter is de meest voorkomende bacteriële verwekker van AID bij volwassenen in Nederland.

A2 de Wit 5

B Friesema 20

Niveau *

De resistentiepercentages van humane endemische Campylobacter-isolaten in Nederland tegen fluorochinolonen in 2010 waren 53.1% voor C. jejuni en 51.1% voor C. coli.

* Maran 2012 32
Samenvatting literatuur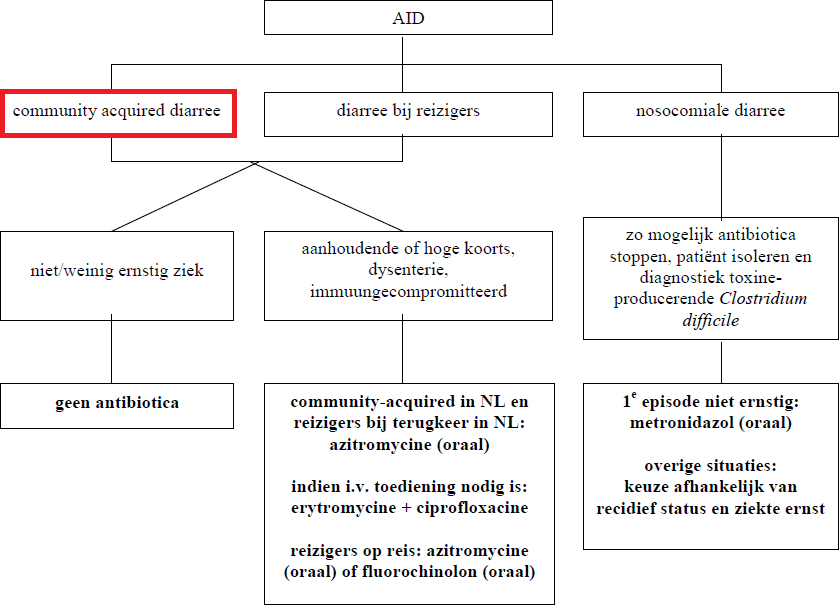 Van alle patiënten met community acquired AID in Nederland meldt slechts 5% zich hiervoor bij de huisarts. Bij jonge kinderen is de oorzaak veelal viraal, waarbij rotavirus de belangrijkste verwekker is bij kinderen onder de 5 jaar. Hoewel bij volwassenen in deze setting meer bacteriële infecties (met name Campylobacter jejuni) en parasitaire infecties (met name Giardia lamblia) worden gezien, wordt in recenter Noord Europees onderzoek naar verwekkers van acute gastro-enteritis bij volwassenen opgenomen in het ziekenhuis in ongeveer 30% van de ziektegevallen waarbij een verwekker wordt aangetoond, een virale verwekker gevonden.[241] In een studie verricht in de Nederlandse ziekenhuis setting werd in respectievelijk 32% en 34% van alle feces monsters een virale of een bacteriële verwekker gevonden. In ongeveer de helft van de gevonden infecties was sprake van een viraal/bacteriële co-infectie. Rotavirus- en norovirus infecties werden het vaakst gezien, gevolgd door infecties met Clostridium difficile en Campylobacter jejuni. (zie ook 'Overzicht geadviseerde behandelingen bij AID', onder Aanverwant).[20] In 2010 waren er landelijk naar schatting 8300 laboratorium bevestigde campylobacter gevallen en ongeveer 25% van deze mensen werd opgenomen in een ziekenhuis.[245] Het aantal (non-typhi) Salmonella infecties in Nederland, met Salmonella enteridis en Salmonella typhimurium als belangrijkste verwekkers, is de afgelopen decennia gestaag gedaald. Wel hebben zich gedurende de afgelopen jaren zonder uitzondering belangrijke epidemische verheffingen voorgedaan veroorzaakt door besmet voedsel. De gemiddelde incidentie van STEC infecties (STEC O-157 èn STEC non-O-157) in Nederland gedurende de afgelopen jaren wordt geschat op 6-7 per miljoen inwoners. In het algemeen worden bij een ziekteduur van een week of korter vooral virale en bacteriële verwekkers gevonden, terwijl bij een langere ziekteduur vaker parasitaire verwekkers worden gezien.
Bij patiënten met een community acquired AID die zich bij een huisarts of een polikliniek presenteren is een gunstig effect waargenomen op duur en ernst van symptomen wanneer binnen een week na aanvang van de klachten wordt begonnen met een fluorochinolon. Het effect is onafhankelijk van de kweekuitslag.[242; 243; 244] De meeste studies zijn uitgevoerd met een 5 daags behandelschema zodat dit als de geadviseerde standaard behandelduur moet worden gezien wanneer diagnostiek niet conclusief is of niet is verricht. Het potentieel gunstige effect van fluorochinolonen moet echter worden afgewogen tegen de (ontwikkeling van) resistentie van Campylobacter stammen tegen deze groep middelen.[21] Zoals besproken, is het percentage humane endemische Campylobacter isolaten dat resistent is tegen fluorochinolonen van ongeveer 30% in 2005 doorgestegen naar ruim 50% in 2010.[32] In de praktijk kan empirische therapie voor AID met ciprofloxacine dus onvoldoende zijn. Als gevolg van deze ontwikkeling wordt dan ook een empirisch alternatief voorgesteld. Waar erytromycine inadequaat is voor behandeling van andere verwekkers van AID dan Campylobacter, lijkt azitromycine wel adequaat te zijn. De MIC90 van azitromycine voor darmpathogenen is minstens 8 keer lager dan die van erytromycine.[247; 248] Het gunstige pharmacokinetisch profiel maakt dat dit middel in een 1 maal daags dosering kan worden toegepast.
Voorts is in een aantal onderzoeken de werkzaamheid van azitromycine bij AID veroorzaakt door (fluorochinolon resistente) Campylobacter, non-typhi Salmonella en Shigella aangetoond.[29; 60; 61; 30] Salmonella spp. hebben het vermogen om te overleven in macrofagen. Des te belangrijker is het dus dat in vitro- en proefdieronderzoek laat zien dat met azitromycine hoge intracellulaire concentraties c.q. een bactericide respons voor Salmonella spp. kan worden bereikt.[249; 250; 251; 252] Daarnaast laten ook vergelijkende humane studies met azitromycine bij Salmonella typhi infecties een gunstig behandelresultaat zien.[253; 254] Één studie bij reizigers liet ook een gunstig effect zien van azithromycine in vergelijking met ciprofloxacine bij non-typhi salmonella infecties, hoewel het hier slechts een klein aantal isolaten betrof.[30] Er zijn 5 gecontroleerde studies die de behandeling van AID met azithromycine hebben onderzocht, die allen een gunstig effect van dit middel op ziekteduur laten zien. [29; 60; 61; 30; 255] Omdat in deze studies geen sprake is van vergelijkbare groepen verwekkers en er 3 verschillende doseringen van azithromycine worden onderzocht, is er wel een uitspraak te doen over de werkzaamheid van azithromycine in het algemeen, maar veel minder over te verkiezen dosering, en met name over het gebruik van een lagere cumulatieve dosis van 1000 mg als eenmalige dosering bij individuele verwekkers. Wij adviseren daarom vooralsnog om een dosering van 1dd 500 mg aan te houden, gedurende 3 dagen.

Omdat AID over het algemeen een 'self-limiting' disease is en de winst die geboekt kan worden met het instellen van antibiotische behandeling gering is, is (empirische) antibiotische behandeling alleen geïndiceerd bij aanhoudende of hoge koorts, bij dysenterie, of als de patiënt immuungecompromitteerd is. Wanneer er een noodzaak bestaat om intraveneus te behandelen, lijkt de combinatie van ciprofloxacine en erytromycine in aanmerking te komen, gedurende 5-7 dagen.
Verantwoording
Autorisatiedatum en geldigheid
Laatst beoordeeld : 01-02-2014
Laatst geautoriseerd : 01-02-2014
Geplande herbeoordeling :
De geldigheid van de richtlijn is 5 jaar; in 2019 of zoveel eerder als nodig is zal de richtlijn ge-reëvalueerd worden.
Algemene gegevens
De richtlijn is opgesteld en goedgekeurd door vertegenwoordigers van de in de inleiding en methoden genoemde beroepsverenigingen, en verwoordt de geldende professionele standaard in februari 2014. De richtlijn bevat aanbevelingen van algemene aard. Het is mogelijk dat deze aanbevelingen in een individueel geval niet van toepassing zijn. De toepasbaarheid van de richtlijn in de praktijk is de verantwoordelijkheid van de behandelend arts. Er kunnen zich feiten of omstandigheden voordoen waardoor, in het belang van een goede zorg voor de patiënt, afwijking van de richtlijn wenselijk is.
De totstandkoming van deze richtlijn werd gefinancierd door subsidie van het Ministerie van VWS/RIVM-CIb aan de SWAB.
Doel en doelgroep
Doel
De Stichting Werkgroep Antibioticabeleid (SWAB) ontwikkelt richtlijnen voor het gebruik van antibiotica bij volwassenen in het ziekenhuis met als doel het antibioticabeleid te optimaliseren en zo een bijdrage te leveren aan de beheersing van kosten en resistentieontwikkeling.
Doelgroep
De richtlijnen dienen als raamwerk voor de commissies die antibioticaformularia opstellen in ziekenhuizen.
Samenstelling werkgroep
Voorbereidingscommissie:
Mw. drs. J.C. Bos (internist-infectioloog)
Mw. dr. C. Schultsz (arts-microbioloog)
Dr. T. Van Gool (arts-microbioloog, parasitoloog)
Drs. M. P. Bauer (internist-infectioloog)
Prof. dr. J.M. Prins (internist-infectioloog)
Wij zijn dank verschuldigd aan mevr. Heleen Dyserinck, (voormalig) bibliothecaresse van de Medische Bibliotheek van het AMC voor haar bijdrage aan de tot stand koming van de zoekstrategie.
Belangenverklaringen
De leden van de voorbereidingscommissie hebben de volgende potentiële belangenconflicten gemeld: M. Bauer heeft op uitnodiging van Astellas een Clostridium-symposium bezocht in Londen, UK. De overige auteurs hebben gemeld geen belangenconflicten te hebben.
Werkwijze
Tabel 1. Methodologische kwaliteit van individuele studies [2]
Classificatie

Definitie

A1

A2

Systematische review obv tenminste twee onafhankelijke A2 studies

Randomised Controlled Trial (RCT) van voldoende methodologische kwaliteit en power

of

Prospectieve cohort studie met voldoende power en adekwate correctie voor confounders

B

Vergelijkende studie zonder de methodologische kwaliteit zoals genoemd bij A2 (inclusief patient gecontroleerde studies en cohort studies)

of

Prospectieve cohort studie zonder de methodologische kwaliteit zoals genoemd bij A2, retrospectieve cohort studie of patient gecontroleerde studie

C

Niet vergelijkende studie

D

Bewijs obv de mening van leden van de richtlijn commissie
* NethMap/ISIS surveillance data zijn niet goed te graderen omdat geen gebruik gemaakt kan worden van levels of evidence zoals gebruikt in deze richtlijn. Er wordt echter wel veel gewicht aan de methodologische kwaliteit van deze data toegekend, omdat ze betrekking hebben op zo'n 30% van de Nederlandse bevolking. Ditzelfde geldt voor de MARAN data.
Tabel 2. Bewijsniveaus
| | |
| --- | --- |
| Bewijsniveaus | Definitie |
| Niveau 1 | Één A1 studie of tenminste twee onafhankelijke A2 studies |
| Niveau 2 | Één A2 studie of tenminste twee onafhankelijke B studie |
| Niveau 3 | Één B of C studie |
| Niveau 4 | Expert opinion |